While catamarans are not the only pleasure boats built in South Africa, the market is clearly dominated by cruising cats – both big and small, power and sail
South Africa really is the land of the multihull – or, more specifically, the cruising catamaran. Of course, cats are not the only pleasure boats built in South Africa, but whereas you can count the former well into three figures, the latter sector is in low double digits.
South African builders should deliver around 165 sailing catamarans in the 40ft-85ft range this year, which translates to 13% of a world market presently worth around 1,260 units per annum. The top-line number tells us things have never been better. But the reality is that one player, Robertson & Caine, is responsible for the lion's share. The others are at best building no more than a handful of boats a year, whereas when we last looked at the market there were a couple of others consistently delivering more than 10 boats a year. The country's boatbuilding activity really reflects the transportation issues of getting product from the bottom of the world to the major boating markets in the north. SA yards tend to build either small boats and RIBs that can fit into freight containers, or medium-size boats and yachts from 12m-30m (33ft-110ft) that can be delivered on their own bottoms. But increasingly some leave the county as deck cargo; for example, delivering powercats on their own bottoms is problematic owing to the distances between fuel stops. The health of yacht charter markets and the bluewater cruising sector impacts much of this industry. SA boats do indeed go all over the world, but the majority end up in the USA or Caribbean.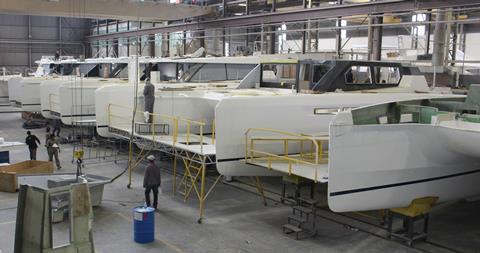 On the big yacht side, two South African yards really stand out. Over the past 27 years Southern Wind has delivered no fewer than 54 monohull sailing yachts from 72ft-110ft, and it has three more currently in build from 96ft-105ft, plus it recently revealed its first super-sail cat concept. Among innumerable smaller projects, Two Oceans Marine, which recently celebrated its 25th anniversary, has delivered 11 60ft-110ft cats since 2011, a mix of power and sail and with an impressive average of 76ft; plus it has two more 85-footers presently under construction.
A mature boatbuilding nation with decades of experience, South Africa's build quality is generally good and prices are keen, especially with the rand as weak as it is currently. The last time this author researched a South African Business Report for this magazine was in 2006 when there were almost R7 to the US dollar. Today a US dollar buys R14. It was at its weakest in recent times in early 2016 when a dollar briefly bought R16.3. Such volatility does not help anyone make decisions. While a weak rand undoubtedly helps exports, it also undermines competitiveness as regards the import of materials and original equipment, particularly engines and hardware. Aluminium spars and sails are produced in volume in Cape Town, but even those manufacturers have to import a lot of bare tubes and sailcloth. Yes, labour is cheap. And despite the fact that unemployment is approaching 30%, skills are in short supply.
Certainly South Africa's economy is under pressure. The ANC's Cyril Ramaphosa, who took over as president from the resigning Jacob Zuma in February 2018, was re-elected president in the general election of May 2019, albeit with his party's lowest-ever majority. He has colossal challenges, not least high inflation and an economic growth rate that has remained below 2% since 2013. Moreover, the first quarter of 2019 saw major power outages cross the country and ultimately economic output dropped further than any other time since the depths of the financial crisis in 2009. Everyone is now nervous that the 2019 Q2 figures when released will show that the country has slipped back into recession, the official definition of which is two successive quarters of GDP contraction. The country was in recession for the first half of 2018.
Unsurprisingly the market for imported boats is not great and not just for currency and confidence reasons. There is considerable wealth in the country. Look no further than the Bentley, Porsche and Ferrari showrooms off Cape Town's Dock Road. But geography is an issue. There are only some 20 harbours and marinas suitable for pleasure boats and the coastline is generally exposed, Atlantic Ocean to the west, Indian Ocean to the east and nowhere but Antarctica to the south. Probably 65-70% of the country's marine industry is located in the Cape Province, although there is also significant activity in St Francis Bay, Knysna, Port Elizabeth, Durban and on inland waters around Johannesburg. And another important factor with any coastal boating in South Africa is the weather. It blows up quickly, often and hard. There are big surf, kite-surf and kayak scenes, principally because they can respond to weather changes quickly and do not require infrastructure. The market is relatively small as regards mainstream boating and what demand there is now is relatively depressed. Of the boats that do get sold locally, a reasonable proportion go elsewhere on the continent – Mozambique, Seychelles, Madagascar etc. Most of the local fleets are made up of older models, many of them looking used and/or abused.
TAX / FINANCE CHALLENGES
For those prepared to buy a new boat or equipment for local consumption, VAT will now add 15%. It was 14% until the end of March 2018. There is also a boat registration scheme in place, a relatively simple and inexpensive procedure for local listings, but to get a full listing and proper ship's papers (should the owner wish to take their boat beyond terotorial waters) is more complicated and relatively expensive. Insurance isn't mandatory as far as the state is concerned, but most boat/yacht clubs require certain levels of compliance. Despite the boat registration scheme, no lenders offer boat loans or mortgages. The risk of financing a movable asset in Africa and the absence of any reliable pre-owned valuation process is simply deemed too great.
Scroll Down to view and download IBI's compilation of top South African boatbuilders, equipment suppliers and service providers.
CAPE TOWN INTERNATIONAL BOAT SHOW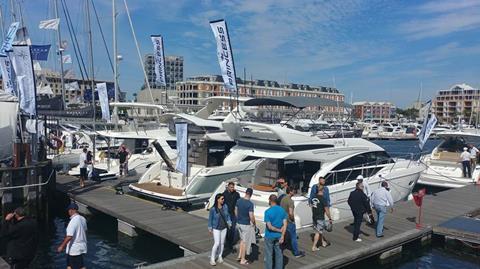 Now owned by exhibition and conference giant Messe Frankfurt – 2,800 people, 130 country subsidiaries and €3.6bn in sales – the Cape Town International Boat Show has emerged as the industry's main showcase, although other events in Johannesburg and Durban come and go sporadically. Cape Town is the only place for Cape Town International Boat Show a truly national event and industry body SABBEX (South African Boat Builders Export Council), according to Bruce Tedder and Vanessa Davidson, is keen to see it firmly established as the preeminent South Africa event.
"Certainly there's an increasing international interest, although the show has been busier," admits Kathryn Frew, Messe Frankfurt's portfolio director Cape Town. "Back around 2005/06, the show was held briefly across two venues – ashore at the CTICC (Cape Town International Convention Centre) and in-water at Cape Grace Marina. But the market is simply not big enough to sustain more at the moment. What we have had now since 2017 is just the in-water component and that's sustainable."
The show's entrance is on the North Wharf, just outside the Aquarium. The next edition takes place Friday to Sunday, October 18-20, the same three days as last year, and from 9:00-18:00 for the first two days and 9:00-17:00 on the final Sunday.
The 2018 edition included 52 boats in-water – roughly 60% power, 40% sail – the biggest of which was the Two Oceans-built 75ft SY HQ2.
Downloads
Click link to download and view these files
Other | PDF, Size 11.1 mb