As the industry pivots to a more sustainable future, the new Eco-focused Boat of the Year award is sure to be one of the most hotly contested categories in this year's Boat Builder Awards; make sure you have the hottest ticket at METSTRADE 2022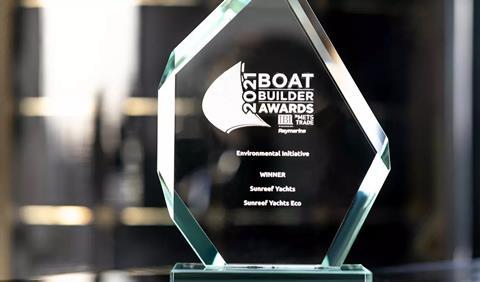 The new Eco-focused Boat of the Year award, sponsored by Marine Resources, is sure to be one of the most hotly contested categories in this year's Boat Builder Awards, held in association with Raymarine. It joins the Environmental Improvement in a Manufacturing Process award in raising the profile of builders who are making tangible improvements to their sustainability practices.
"Headline news such as a transition towards electric and hybrid power systems undoubtedly capture the imagination, but this award will cast a light on the whole gamut of ways that boatbuilders are reducing the birth to grave environmental impact of their vessels," explained chair of the BBA judges, Ed Slack.
"In the case of our new Eco-focused Boat of the Year award that means we'll consider any entry that offers a demonstrable reduction in environmental impacts compared to immediate past practice. If every boatbuilder can adopt a variety of available solutions now it will generate a significant improvement across the industry as whole.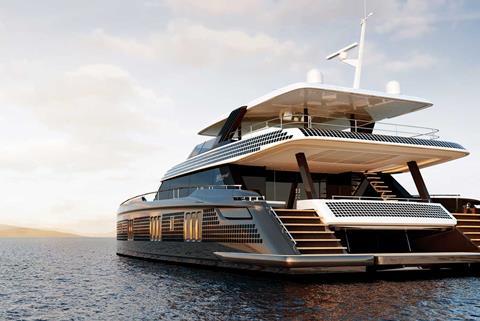 The quest to reduce a boat's environmental impact is a battle across a multitude of fronts. It requires drive and passion, something the Boat Builder Awards 2021 judges picked up on when they crowned Sunreef Eco catamarans, winner of the Environmental Initiative award last year, for pushing the boundaries in offering emission-free luxury cruising on an attractively designed yacht.
Where internal combustion engines continue to be the only practical option, heightening efficiency and reducing emissions is key. Benetti's new B.Yond 37M lays claim to being the world's greenest boat in its class, combining SCR catalytic filters – a gas control technology that uses the 'AdBlue' urea-based liquid solution already adopted in the automotive industry for Euro 6D diesel engines. This is combined with the innovative E-Mode Hybrid system by Siemens Energy, significant also because it shows how the world's biggest technologists are playing a part in marine leisure emission reduction.
Often new technologies percolate down from high-end applications like the Sunreef Eco and Benetti B.Yond, but there is plenty of other activity worthy of note from innovative and often lesser-known smaller companies. Last year the judges highlighted the efforts of Italian partners Caracol and NextChem, with their Beluga sailing dinghy 3D printed using recycled material. It also shortlisted British company The Ultimate Boat Company for its use of DANU recyclable styrene-free resin and sustainable fibres within its range of production RIBs.
Some builders have been building a growing reputation for sustainability for a long time now. Barbara Amerio, commercial director, and partner at Amer Yachts made it a lifelong mission to improve boating's green credentials. Her efforts were rewarded in 2018 when Amer Yachts picked up the BBA Environmental Initiative award for its Amer 94 sustainable superyacht. Since then, the yard launched its flagship lightweight Amer 120 which has metal sides from the main deck to the flybridge – saving tonnes of composites.
Weight reduction is also central to the thinking behind Sanlorenzo's new Smart Performance series. The new SP110 features lightweight materials, such as the laminated glass used for the large surfaces of the windows. Hull design is increasingly critical to ensure efficient running of the boat over its lifetime – as is its aesthetics. Sanlorenzo are among several leading names who believe we need to move towards designs that stand the test of time, with easier potential for refit.
Speaking to BBA co-organisers METSTRADE, world renowned superyacht designer and DAME Awards chair, Andre Hoek, picked up on this emerging trend for future-proofing boat design: "Knowing that better equipment is coming, some diesel-electric builds are being constructed to be upgradeable when the technology and regulatory requirements catch up.
"When you start with diesel-electric propulsion using an electrically driven propeller, it becomes a lot easier in the future to swap out the engines for a fuel cell, a huge battery bank, or combination of the two. We are working on a 48m motor yacht that follows this concept. Design effort is also focused on enabling the anticipated refit. There's a 100m motor yacht in construction with two engine rooms, one for conventional engines and the other for hydrogen power."
For Swedish boatbuilder X Shore, overall sustainability is the driving force. CEO, Jenny Keisu commented: "One day, net-zero boats will be a reality but, for now, we must reduce emissions throughout the supply and value chain, and use materials sourced in the most sustainable way possible."
The Boat Builder Awards provides the ideal opportunity to network, celebrate with the industry's greats, learn about the latest developments and enjoy a fully organised night out that starts with canal boat pre-dinner drinks with a waterside pick-up right outside METSTRADE itself, sponsored by Highfield Boats, and a post-event party sponsored by McKenna Townsend, following a three course dinner, entertainment and the awards presentation.
Every effort is being made to ensure this eighth edition of the awards is the best yet.
Ticket Details
There are two ticket options available to attend this prestigious event: an individual ticket or a table of ten to invite guests and colleagues to join you for a first-class evening.
Individual tickets are €275 plus VAT.
A table of ten is €2,750 plus VAT.
All tickets cover admission to the event at the Maritime Museum including:
a spectactular cruise through Amsterdam's scenic canals,
welcome drinks, gala dinner, entertainment,
the awards ceremony & after-dinner party.


Further details on the award categories, this year's panel of judges, and event sponsors is available on the BBA website.