How IPS transformed the collaborative process for Volvo Penta, and why data is helping forge ever-deeper ties between OEMs and suppliers. This year's Boat Builder Awards highlights the very best of such relationships with the Collaborative Solution between a Production Boat Builder and its Supply Chain Partner – for boat builder or shipyard companies producing yachts under 24m – sponsored by Ultraflex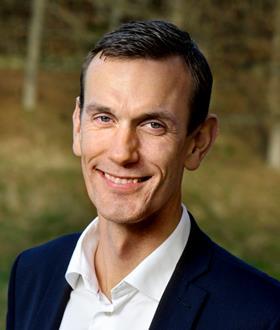 "The turning point for us came with IPS – that really brought home the importance of good integration between ourselves and the boatbuilder," explains Johan Inden, president of Volvo Penta's Marine Business Unit. "It gave us a seat at the table in talking about hull design and from that the dialogue has developed," he maintains, the engine builder epitomising the way technological advances and the rush to sustainability are revolutionising the OEM supplier dynamic.
"When we launched IPS we needed to start talking more closely about the combination of the hull and the propulsion system. That developed into how do we design the hull to give the optimum performance the builder expects? In the past we wouldn't have been expected to have a view but being part of the design cycle of the hull and showing that we can contribute data, opened-up a two-way dialogue. Now we have very close discussions with some of our customers on how do we build the next generation of boat? How do we make sure that the propulsion system is in tune with the hull?"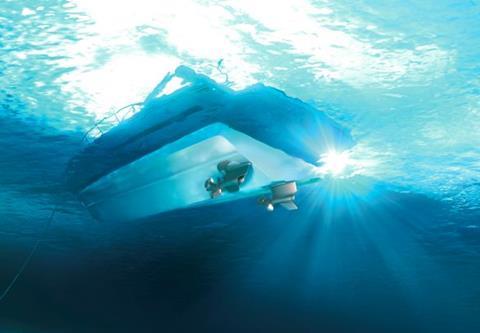 Volvo Penta has even created a department of naval architects and a special IT system that focuses on optimising propulsion systems with hull designs. The engine manufacturer is also now collaborating with leisure boat builders towards hybrid concepts, as well as initiating pilots with boat builders to test hybrid solutions in a leisure boating context.
"We're looking at evolving that platform to give the best advice moving into hybrid systems. We're also playing with additional ideas, such as how can we provide advice when you start looking at fuelling systems?"
This year's Boat Builder Awards, held in association with Raymarine, will recognise the very best of such collaborations with two specific award categories: Collaborative Solution between a Production Boat Builder and its Supply Chain Partner (for boat builder or shipyard companies producing yachts under 24m), sponsored by Ultraflex; and the same award category for builders producing yachts over 24m.
The drive to increase production efficiencies, advances in technology, changing consumer demands and desire to shorten supply chains, means the breadth and depth of collaborative working is only going to increase.
"I've seen that over the last couple of years, our appetite of driving transformation, both the knowledge we have, the experience we now getting with the systems and pilots we have out there is increasing significantly and the industry is eager to be part of it," claims Inden.
"One of the big topics for us and our customers is engine room design. There's a continuous stream of new boats being launched, and the lifecycle of each of those new models is probably covering the inflection point of the next technology for propulsion. So, one of the common questions we get is how do I make sure that my engine room is prepared to carry not only diesel or gasoline engines, but also an electric engine? Should I change the dimensions?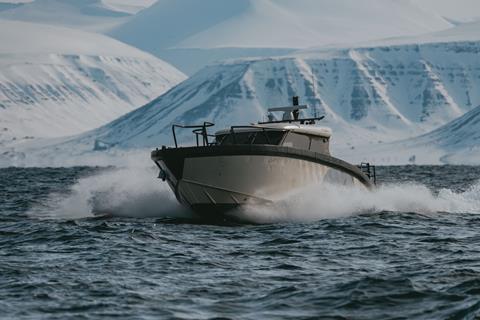 We have launched a concept called Hybrid Ready, centred around making sure that the interior space in a hull's design is sufficient to be able to carry next generation solutions." And just what does that next generation look like? Pilot projects, like Volvo Penta's Kvitbjørn (Polar Bear) vessel – a collaboration between the engine builder, Marrell Boats and Arctic tourism operator Hurtigruten Svalbard, are giving Volvo Penta a glimpse into the future.
Kvitbjørn was launched earlier this year in the frozen waters off Svalbard, in the heart of the Arctic. Powered by a complete helm-to-propeller Volvo Penta twin D4-320 DPI Aquamatic hybrid-electric solution and part of a three-year pilot project to test new electromobility technology in one of the world's most extreme maritime environments, Kvitbjørn is just one project helping the engine builder define the parameters of tomorrow's technology.
"That's a concept we are talking to our customers about – they want to make sure they are not locking themselves out of being able to use the future systems."
Advances in technology often mean today's equipment manufacturers can harvest data like never before, revealing vital information about boat usage and consumer preference. OEMs have been quick to latch onto that potential, creating win-win partnerships.
"Looking into usage patterns, we typically see that you boat slower than you think… You spend a lot of time idling (as you look to moor up etc) and then brief periods at cruising speed transitioning from one site to another. It's a very distinct user profile that we see and when we share this type of data the boatbuilders, we contribute to influencing how they design the boats.
Data is crucial in designing the right type of systems going forward. It's becoming essential as the cost of drivelines and the assets becomes higher because battery technology is pushing up prices. These types of discussions are already on the table, but they getting to another level of significance in the development we see for the future."
Make a difference – Boat Builder Awards 2022, in association with Raymarine
Do you know a production boat builder that has taken
colloration with a supplier to another level? Be sure to nominate them
for the 2022 Collaborative Solution award,
sponsored by Ultraflex
"Yearly boatbuilders propose new models and new concepts. Ultraflex is constantly developing new items and new solutions to offer to the boatbuilders in order to improve the boating experience of our customers and making this world ever more attractive."

– Piero Gai, general manager, Ultraflex
'Collaborative Solution between Boat or Superyacht Builder and its Supply Chain partner' past winners
2021 – Excess Catamarans, Torqeedo and ZF
2019 – Marquis Yachts with Toyota Motor
2018 – (Joint Winner) Hanse Group with Lewmar
2018 - (Joint Winner) Prestige Yachts with Lewmar
2017 – Beneteau and Mutiplast
2016 – Azimut | Benetti and Rolls Royce
2015 – Jenneau and Harken
The Boat Builder Awards, held in association with Raymarine, are jointly organsied by IBI and METSTRADE. This year's event will take place at the Maritime Museum in Amsterdam on the evening of Tuesday, November 15. For more information and tickets visit boatbuilderawards.com