Four SY projects and eight comanies vie for the Best Collaboration award, sponsored by Propspeed
Mastering the art of the collaborative process has never been more critical as the industry moves towards a carbon neutral future. The speed of that transition away from fossil fuels and the drive to greater sustainability can only happen with joint efforts and greater integration between suppliers and builders. Add to the mix the need for increasingly intuitive and functional operating systems and user interfaces, and the pressure is on for partners to deliver.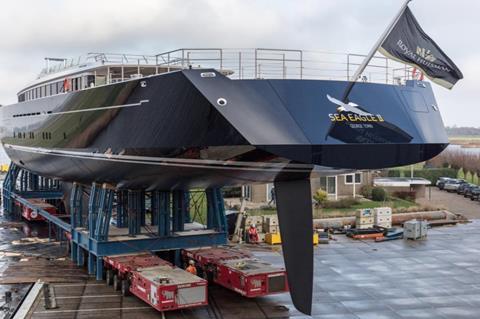 In 2019, Royal Huisman took top honours in this category for a technological masterpiece developed with partners Rondal, Gurit and Com&Sens, to build a load-sensing composite rudder for an 81 meter project, the world's largest aluminium sailing yacht at the time (Above; detail of the rudder).
In less than two weeks, the Boat Builder Awards, held in association with Raymarine, will spotlight eight companies that have taken the concept of collaboration to the next level. Supply chain issues (though reportedly easing according to the majority of builders canvassed by IBI at this week's Ft Lauderdale Boat Show) have caused havoc and forced builders and suppliers to work even more closely to deliver ground-breaking projects on time and on budget.
This year's Collaborative Solution between a Superyacht Builder and its Supply Chain Partner award, sponsored by Propspeed, brilliantly reflect both the vision and resilience of the leisure marine sector.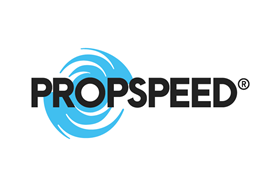 The shortlisted companies for the 2022 Collaborative Solution between a Superyacht Builder & Supply Chain Parnter are:

Amer Yachts and Simrad Yachting Green Assistant system
Green Assistant was devised and developed by Simrad Yachting with boatbuilder Amer Yachts. Combining electronics and C-Map cartography to support sustainable navigation and based on Simrad Command, it is capable of automatic speed reduction in areas with defined limits or where whales have been sighted. It can automatically shut down discharge outlets in sensitive areas and advise about noise pollution risk among other indicators to assist captains with reducing environmental impact.
Benetti Yachts and Siemens Energy Benetti B.Yond 37M hybrid solution
The B.Yond 37M features an advanced propulsion system combining SCR catalytic filters with Siemens Energy's E-Mode Hybrid system to greatly improve emissions. Four operating modes are available – full electric, eco transfer with only one engine used underway, enhanced comfort diesel electric navigation with only the generators running and the main engines off and extended range mode with the main engines running but the generators switched off. The lithium battery pack also makes it possible to stay at anchor in hotel mode with zero emissions.
Sanlorenzo and ABA Yacht Floating door system
The floating system created by ABA Yacht in collaboration with Sanlorenzo is designed to reduce stresses on the mechanics of yacht doors and surrounding structures when subject to sea movement and by doing so, prevent door breakage and enhance safety. This active system allows the door to follow the movement of the waves in real time. Advance controls and a tablet display enable the crew to monitor operation.
Numarine and Lippert Marine Group Europe Patio doors for Numarine 37XP
Numarine contacted Lippert regarding a supply issue it was having with the doors for its 37XP model. Within a very limited time frame, Lippert company Trend Marine developed and produced three sets of RINA certified stainless-steel patio doors. New stainless steel frame sections were engineered to suit the existing mouldings, saving the builder time and money. Key to the successful delivery of these advanced multifunction doors was the collaborative communication between Lippert's in-house design team and Numarine's design team.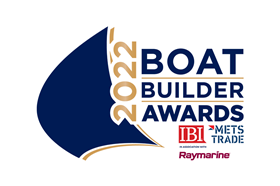 To Attend the BBA
Tickets to the Boat Builder Awards Gala Dinner, taking place the evening of November 15 in Amsterdam, are now on sale with the option to purchase individually or in tables of 10 to enjoy an unforgettable evening with colleagues and industry contacts under the starlit canopy of Amsterdam's National Maritime Museum:
Individual tickets are €275 plus VAT.
A table of ten is €2,750 plus VAT.
All tickets cover admission to the event at the Maritime Museum including:
a spectactular cruise through Amsterdam's scenic canals,
welcome drinks, gala dinner, entertainment,
the awards ceremony & after-dinner party.

The return of this event is not to be missed, tickets can be purchased here and are offered on a first come, first serve basis.