Book tickets now for the industry's premier awards celebration
With less than two weeks until the boat industry's premier awards celebration, the clock is ticking… so make sure you don't miss out. Preparations are well underway for this year's Boat Builder Awards, held in association with Raymarine on November 15, and tables to the gala dinner are already selling out fast.
Take the stress out of entertaining clients and reward your fellow team members to a night that's a cut above – along with solid business benefits: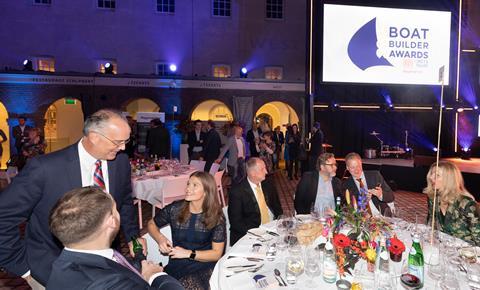 Networking – With 10 award categories this year, the 2022 Boat Builder Awards will play host to some 350 guests - including 100-plus representatives from many of the world's major boat builders.
(Hot tip: Boat builders are definitely among the thousands of visitors at METSTRADE, but where else in Amsterdam can you mix and mingle with such a big gathering of key builders in one place?)
Valuable take-aways - Get insight to the award-winning innovations and advances taking place in boat building and its supply chain – and meet the people behind them.
Inspiration from established & emerging talent – Join us in honouring the lifetime career of one of our most influential individuals in boat building and applaud future talent through our recognition of this year's Rising Stars.

Super convenient - No more queuing for taxis in the rain - go straight from the show, by canal boats to the venue. You can maximise your time on the show floor before carrying on the party and networking in comfort!
Entertainment & fun – What better way to spend a hassle-free, celebratory night in fabulous surroundings? The night appropriately kicks-off with refreshments and on-water transport aboard luxury canal cruisers – taking guests directly to the National Maritime Museum for a night of dining, networking, entertainment and after-dinner party.
Team building – Treat your own team and key clients to a unique night in Amsterdam – take away the stress of booking for big groups in packed city restaurants.
Ticket Details
There are two ticket options available to attend this prestigious event: an individual ticket or a table of ten to invite guests and colleagues to join you for a first-class evening.
Individual tickets are €275 plus VAT.
A table of ten is €2,750 plus VAT.
All tickets cover admission to the event at the Maritime Museum including:
a spectactular cruise through Amsterdam's scenic canals,
welcome drinks, gala dinner, entertainment,
the awards ceremony & after-dinner party.