Equipment to be installed on 40m Turkish-designed and built dive yacht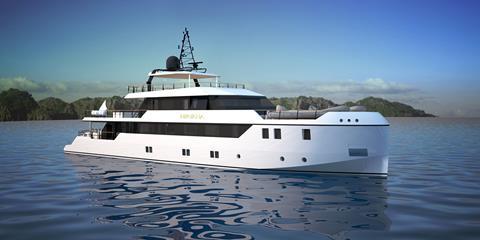 ACO Marine has won a contract from the Turkish design and naval architecture studio, Soyaslan Design, to develop and manufacture a Clarimar MF-3 biological wastewater management system for installation on the 40m (131ft) luxury yacht style dive craft, Nirvana.
For ACO Marine, a division of the German ACO Group, this is the first Turkish-designed and built yacht that it has been commissioned to work on. The yacht, which has been ordered by an Indian investment group and will operate in the Philippines, is under construction at the Tuzla-based Torlak Shipyard. The superyacht-styled vessel is able to carry 24 passengers and 13 crew.
Nirvana is set to be delivered towards the end of this year or early next and the order is the first yacht contract secured by Istanbul-based Esko Marine, ACO Marine's recently appointed sales and distribution agent in the region.
Turhan Soyaslan, partner, Soyaslan Design, said: "The solution provided by ACO Marine, together with its local service agent Esko Marine, allowed us to incorporate the latest wastewater treatment technology into a very tight machinery space."
With its patented ´Bio-Sword´ filtration technology, the Clarimar system eliminates the requirement for settling and chlorination stages, resulting in one of the smallest sewage treatment plants on the market. The Nirvana unit includes a vacuum interface and capacity to treat waste streams up to 5600l/d (hydraulic load) and 3.61kg/d (BOD5) by way of an in-line mounted UV lamp, with no requirement for chemicals in any part of the ACO MF process. Black and grey water tank capacity is 3.8m3.
In addition to the Clarimar unit, the scope of supply includes an ACO PowerVAC dual pump vacuum station, vacuum interface valves, vacuum toilets, and grease traps.
Erhan Esinduy, managing director of Esko Marine, said: "We are proud to be associated with this project – the first Turkish yacht reference for ACO Marine. Nirvana is designed for unrestricted navigation so needed a compact wastewater treatment capable of meeting the discharge requirements relating to the latest IMO standards detailed in MEPC 227(64)."
Mark Beavis, managing director of ACO Marine, said: "Turkey has a long maritime history and is strategically-located on the Mediterranean, Black Sea and Aegean Sea. Over the past 20 years, its maritime shipbuilding exports have increased and in recent years the country's builders have diversified into the luxury yacht market. Nirvana is truly indicative of the advancements Turkish shipbuilders and naval architects have made to meet the yacht market's high standards."