International boat sales firm opens new location in Portland and Poole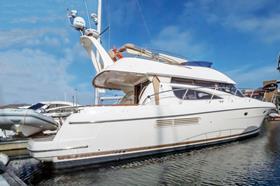 Ancasta, the UK-based international boat sales firm, has opened a 'virtual' office in Portland and Poole to service central southwest England.
Providing a 24/7 brokerage service, Kevin MacDonald is working across 12 marinas in the area – from Christchurch to Bridport, with The Royal Motor Yacht Club, Poole Town Quay Marin, and Portland Marina in between.
"Ancasta wanted to consolidate its presence," explains MacDonald, who moved from Plymouth to Poole in summer 2018 to take up the role, "and offer buyers and sellers from Hampshire, Dorset and Somerset the expert hands-on service which they receive from other Ancasta offices.
Ancasta is also actively involved in putting shared-ownership deals together for racers, yachts and cruisers, he adds.
Ancasta International Boat Sales has 17 offices across Europe and is the largest Beneteau Power and Sail dealer in the UK. MacDonald has worked at Ancasta for five years and has been a yacht broker for 11. His current listings include a Beneteau Swift Trawler 44 and a Prestige 46.