An Azimut S6 motoryacht went on display in New York this week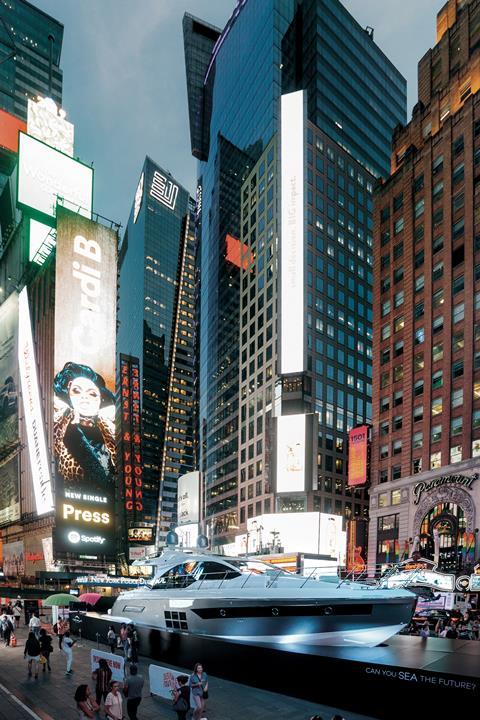 An 18m Azimut S6 motoryacht went on display in New York's Times Square this week, an installation that brought a month of initiatives linked to the 50-year anniversary of Italy's Azimut-Benetti Group to a close.
As reported by IBI in April, the Italian yacht-builder chose to display the model as part of its 50-year anniversary celebrations. New York is said to be one of the company's five most-significant cities in which it does business.
The Azimut S6 is the largest yacht in Azimut's portfolio that Times Square was able to host. The organisation and production of the initiative was made possible through a partnership with Design Pavilion and NYCxDESIGN, an annual event at which New York celebrates design.
"A 60ft boat taken out of its natural element of the sea and placed in an iconic city square densely populated with neon lights changes our perception of the usual and the possible, and this is how it symbolically represents the drive for innovation in design and technology that is a distinctive feature of the group's projects," says the company in a statement. "For Azimut, being at the centre of what New Yorkers call 'The Crossroads of the World' means being at the symbolic centre of the contemporary world, at the nerve center of a network, a representation of global contaminations…"
Five international events have been planned for Azimut-Benetti's 50th anniversary this year, each representing a decade of Azimut Yachts' activities, starting from 1969, the year the company was founded by Paolo Vitelli. Dubai, New York, Cannes, and Hong Kong are the locations involved, with a concluding evening event held at the company's Avigliana headquarters near Turin in December.