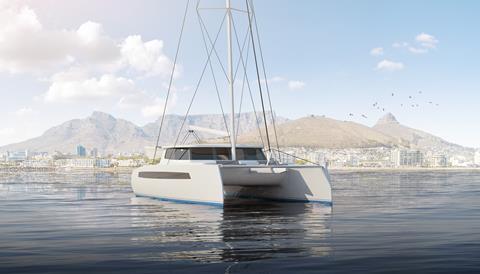 Newly-launched Balance Catamarans Cape Town had confirmed five orders for the new Balance 482 on the back of a successful Annapolis show.
Balance Cape Town is a joint venture between US-based Balance Catamarans, South African yard Two Oceans Marine Manufacturing, and top South African naval architect Anton du Toit. The new 486 design is still in the tooling stage, but has already generated an impressive string of orders, according to Balance president Phil Berman.
The Cape Town company was set up to build a range of custom and semi-production catamarans, and hopes to emulate the success of Berman's other South African joint venture with Nexus Yachts in Cape St Francis.
Speaking to IBI during a visit to South Africa earlier this month, Berman said the growth of his South African business ventures was largely thanks to key partnerships with Du Toit, Mark Delany from Two Oceans, and the Paarman brothers from Nexus.
"When you are starting out you always have doubts but I did always feel confident that if I got the right people together we would be successful," Berman said in relation to the success of the Balance 52, of which seven hulls have so far been built. "I will say that the partnership I've had with Anton [Du Toit], Johnnie and Roger [Paarman] has been a really good partnership because a lot of listening and collaboration is going on, between all of us, and this has just led to a really good boat."
He said he was equally confident about the future of his collaboration with Delany and his Two Oceans team.
Berman also highlighted a successful business model that linked the two South African ventures to the global marketing reach established by The Multihull Company, Berman's US-based brokerage which sells around 100 boats a year. "Because we have the marketing resources globally through that other company, it is much easier for us to brand a product and reach the market cost-effectively," he said. "The first three Balance 52s were all bought by customers of my other company.
"When a company is starting out, securing the first customers and building the trust required… is very important," Berman said.
The new 482 model has an owner version configuration that accommodates up to six people. She is built for both speed and cruising comfort, and includes the trademark versa helm.