New 105ft superyacht catamaran project in build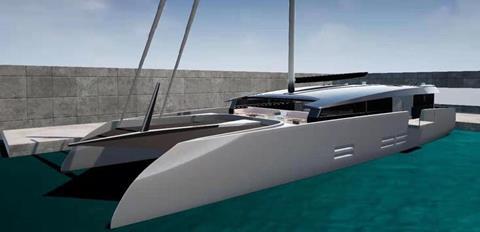 McConaghy, the specialist raceboat and multihull yacht builder, has had a busy start to 2020 at both its yards in China and Australia.
Top of the list is a contract to build a 32m (105ft) superyacht catamaran which is based on the MC90 design. A full custom project for a European owner, work has recently started on the 105-footer for an anticipated delivery in 2022. This new catamaran will include an expansive flybridge atop of a self-contained owner's suite on the main deck.
The McConaghy Superyachts Division, which is best known for having built the 42m (138ft) trimaran Adastra some years ago, is now reportedly actively engaged on a number of new project enquiries.
The Division, in addition to the 105, is also nearing the completion of an expedition spec, 90ft catamaran. Its extensive systems and equipment list includes a 2.5m-capacity tender lift and a hydraulically-deployed telescopic and pivoting passerelle – all of which were designed, engineered and constructed in-house. This yacht is named 'Raptor' and will undergo testing and commissioning in the coming months.
Interior features include privacy glass between the saloon and bridge, the finest Italian veneers, and nickel-plated custom door frames. The expansive flybridge includes a bar and Teppanyaki grill as well as the latest sailing and navigational systems. Long-range cruising options selected by the ecologically-minded owner include 7.5kW of solar capacity, a sewage treatment plant and a trash compactor coupled with a refrigerated storage compartment.
Lower down the size range this year has seen the delivery of an MC60 to a US owner. This was the second of three McConaghy MC60s in build and the owners selected the hard top option which has integrated LED lighting, clear storm dodger at the front and sides to protect the helmsmen, and shade cloth around the aft section. Other high-spec features included military-grade lightning protection, silent running and upholstery detailing unique to each cabin. Initial performance indications are exceptional, she is a windspeed+ boat in light airs.
After a successful participation at the Boot Düsseldorf show, the next event is the Miami show where the newly-delivered MC60 will be available for viewing. In addition to the 105 project and the MC60 in build, the company is also working on an MC55.
At the McConaghy Sydney yard, a Dunning 44 is in build. This is a full carbon raceboat for a McConaghy client. The boat will be ORR optimised with a full complement of the latest deck equipment. This follows the success of the MC38 and MC31 Classes and a recent custom project 'The Red Hand', all of which were collaborations between McConaghy and Dunning.