Sail-maker opens new loft in Galway to better serve growing Irish market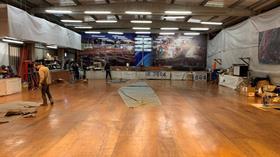 Doyle Sails International has expanded its presence in Ireland with the opening of a new loft in Galway. This, the company states, is to better serve the rapidly growing sailing industry in Ireland.
The new loft is operated by managing director Donal Small, loft director Yannick Lemonnier and sales consultant Evan O'Connor.
Formerly known as West Sails, the loft is said to be the largest sail-making facility in Ireland with an impressive floor area of 450sq m. It is located in the Galway Docks, a two-hour drive from Dublin and 2.5 hours from Cork.
Small comments: "As the largest sail loft in Ireland we wanted to join with the global leader in high performance sails, which has the same track record in delivering excellent customer satisfaction."
Doyle Sails' Galway loft opened on January 1, 2019. While the loft will be based out of Galway, the company will also have representation in Belfast, Cork and Dublin. The loft has won investment from Kilcullen Kapital Partners, led by renowned Irish sailor Enda O'Coineen – an important move which will offer the financial backing and assurance needed for a successful operation.
Business will continue as usual for the busy loft, which will offer services in sail manufacturing, sail repair, covers and marine trimming. Dates will be announced shortly for "Launch Workshops" to take place in Galway, Belfast, Dublin and Cork, which will be led by Small.
Small has spent many years working within the yachting industry, from his early start in boatyards to captaining large superyachts and racing professionally. His offshore sailing achievements include the Volvo Round Ireland Yacht Race, the Fastnet Race, Middle Sea Race, Caribbean 600, plus several local Irish and UK offshore races. He has also completed transatlantic and transpacific crossings during his time as a superyacht captain.
Apart from offshore sailing, Small has managed a number of campaigns. He coached the Irish Paralympic Sailing team for London 2012 and was also involved with the British Paralympic sailing team for Rio 2016.