Sirena Yachts sells five units of its new flagship since its Cannes debut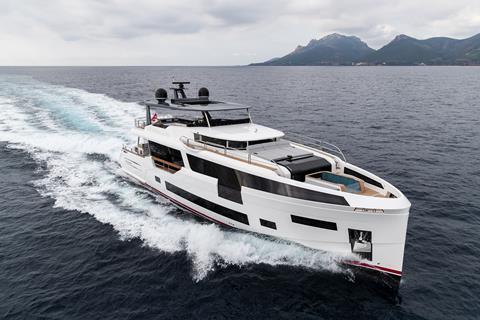 Turkish boatbuilder Sirena Yachts has sold five units of its Sirena 88 flagship since its world debut at the Cannes Yachting Festival last September. Two units were sold to owners in North America and two in Europe, with the fifth hull selling to a Russian owner at the Düsseldorf boat show in January.
"The Sirena 88 is so popular because it offers the largest interior volume in its class. We're talking about a 7.1m/23.2ft beam; there is nothing else like that in this size bracket, without even mentioning its 25kt maximum speed," says Sirena commercial director Ali Onger. "And its range is impressive too: around 2,100Nm at 9kt. All these factors are serious advantages for our clients.
"Interior decoration is going to be different for each of the boats and they will reflect their respective owners' needs. Its layout is also customisable, so long as the alterations do not interfere with technical aspects of the yacht," he adds.
The first Sirena 88 will be delivered in April 2020, with the following unit to be received by the owner at the end of the summer. The third yacht's delivery is scheduled for late 2020, and the fourth and fifth are due in April and June 2021.
Sirena's director of North American sales, Constantinos Constantinou, adds: "I see two main contributing factors to the Sirena 88's success: firstly, the superb job done by our designers and engineers, evidenced by an Innovation award the 88 has received. The second success factor is our reputation and brand recognition."