Six global premieres for Nomad, Silvercraft and Oryx brands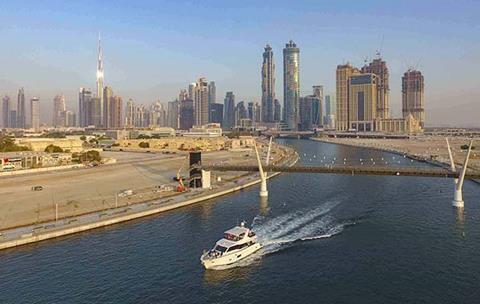 Gulf Craft is calling 2019 "The Year of Nomad Yachts" as it harnesses a smart approach to family yachting with its range of environment-friendly vessels. In line with its serious steps to reduce its carbon footprint, Gulf Craft will be offering customers the solar-power option for all its yachts in the future.
Half of the 12-strong fleet from Gulf Craft on show at the 2019 Dubai International Boat Show (DIBS) are world premieres – the Nomad 55, 65 and 75, the Oryx 379 sport cruiser, and two Silvercraft fishing boat models. As for the Majesty Yachts superyacht brand, there is the tri-deck Majesty 140 and the Majesty 100 on show, plus the smaller owner-managed Majesty 62.
Gulf Craft foresees great market potential for practical, long-range luxury yachts, hence the launch of the three new Nomad models. The Nomads are part of the SUV (Sports Utility Vessel) Collection. The Nomad 95 SUV, Nomad 75 SUV and Nomad 65 SUV all feature semi-displacement hybrid hulls designed to withstand all sea conditions and are able to travel long distances.
British naval architect, Andrew Wolstenholme, is responsible for the design of the hulls of the new Nomad yachts, while the exterior styling and interior design of the vessels are the work of Gulf Craft's own in-house design team. The new yachts have been built using lighter, stronger and rigid advanced composites like Kevlar and carbon fibre to increase stability and fuel-efficiency.
The new Nomad yachts will cater to adventurous seafarers with a desire to explore new cruising grounds. The yachts are engineered to offer premium comfort, safety, and oceangoing capability. All the vessels under the Nomad Yachts brand feature a functional design that meets 'CAT A' specifications and the brand's flagship Nomad 95 is built to Bureau Veritas Commercial Charter.
Mohammed Alshaali, Gulf Craft chairman, says: "The new Nomad Yachts are set to redefine the future of yachting. They are created for those who enjoy escaping the routine and travelling together with their families. The Nomad yachts transform yachting into a memorable experience for the guests onboard. It is truly the future of family yachting."
As for the Oryx 379 sport cruiser, this represents a step forward with a new brand DNA. The new 379 has been designed by upcoming Emirati designer, Hussein M AlShaali. The completely-restyled 37ft sport cruiser boasts an impressive use of space and can sleep four guests.
Gulf Craft started off successfully building catamarans for its powerboat racing teams during its early years but has not continued in this market for leisure. This year, the company returns to its roots with the launch of two new versions of the SilverCat 34 catamarans – a centre console fishing boat and a hard top version. Both are efficiently powered by two engines instead of the regular four engines in a boat of a similar size.