Sale of six models strengthens young brand's market presence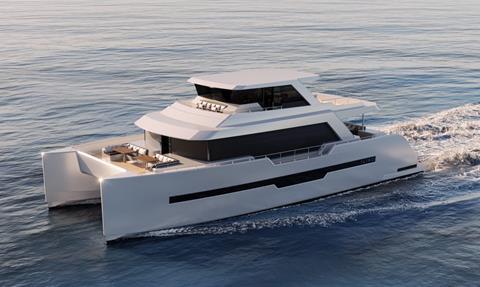 The sale of six Iliad Catamaran models at the 2021 Sanctuary Cove International Boat Show (SCIBS) is seen by the young brand's owners as a "stunning success that has firmly cemented Iliad Catamarans' position as a major new presence on the world's powered catamaran market," the company says.
In addition to the six sales concluded at SCIBS, further orders are being finalised post-show. The sales comprised three Iliad 50s; one of the forthcoming Iliad 50 S models, an Iliad 60, and an Iliad 70 flagship.
Apart from the contracts signed, there was also strong interest in the new Iliad 80, which has just been unveiled and will be the new flagship for the brand. The Iliad 80 is described as "representing the pinnacle of long-range power cruisers and was specifically designed in response to the demand for larger, live-aboard power catamarans."
Iliad Catamarans' CEO, Mark Elkington, said that while the boat show result was exciting, it was not entirely unexpected. "Since our 2019 launch, the range has been embraced with overwhelming enthusiasm by motoryacht buyers from all over the world," he says. "It's immensely satisfying to see our goal of creating long-range, luxurious, spacious and customisable power catamarans effectively meeting the needs of so many clients.
"We are also delighted to have some of our earliest clients return to purchase another Iliad Catamaran, which is a rewarding testament to the quality of the range."
The Iliad brand was launched two years ago by specialist multihull business Multihull Solutions and brings together Australian sales and marketing expertise with the designs of Italian naval architect Riccardo Bulgarelli who worked in Europe for many years for some of the world's leading shipyards before establishing his own design office in Asia. Bulgarelli has designed and project-managed the build of many exclusive custom vessels as large as 112ft for export to the world market.
The brand's models are constructed CE (Category A) standards and all models can be built to any specified international survey classification and include a five-year internationally supported structural warranty for commercial operation.
Iliad Catamarans is managed by a team of Australian, English and European marine experts who oversee every step of construction at Xinlong shipyard in Zhanjiang, one of the few established shipyards in China that construct premium quality explorer-type boats for the world market using internationally imported materials.