CNB and Beneteau models join Lagoon for Fleet One line-fit option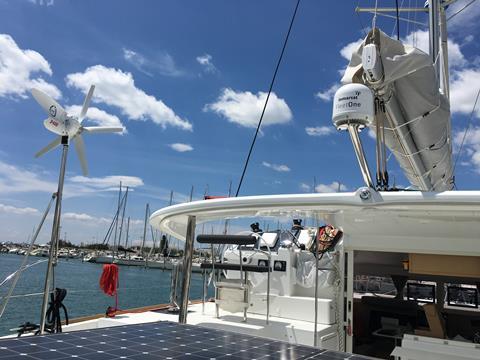 The partnership that began last year between Inmarsat and Groupe Beneteau brand Lagoon has now been extended to include both CNB and Beneteau, with other group brands likely to follow.
The focus of this collaboration between Inmarsat, the global mobile satellite communications firm, and Lagoon was to provide buyers of new yachts with the option to have Inmarsat's Fleet One service line-fitted. This package has now been extended to CNB and Beneteau motor and sailing yacht models, which are built at two shipyards in Western France. A retro-fit option is also offered.
"We are pleased to see the extension of our partnership with Groupe Beneteau's shipyards in Western France, which is a further endorsement for our portfolio of satellite services that are suitable for a wide range of leisure customers from smaller to larger yachts who will now benefit from Inmarsat's global connectivity at sea," says Arvid Karlberg, business development manager, Yachting & Passenger, at Inmarsat.
Due to its compact antenna and in-built safety services, the Fleet One service is said to be the ideal solution for boats from 12m-21m (40ft-70ft), providing seamless connectivity through the proven reliability of Inmarsat's global L-band coverage.
CNB and Beneteau boat owners will now be able to benefit from this connectivity package for a two to three-year period during the purchase phase of a sail or motor yacht simply by ticking the appropriate box in the options catalogue of the respective yacht builder.
The communications package is available through Inmarsat's partner, Advanced Tracking, and it provides owners with a two-year package. This features unlimited satellite communication with 4G for coastal cruising, including 5GB/month broadband, through third-party provider WeStream, at high speeds via Wi-Fi in more than 130 countries.
Yacht owners additionally get unlimited data, a voice package, 24/7 rescue access, medical assistance, automatic weather files reception, an email and file transfer compression system and tracking via satellite.
IBI understands that talks with other Beneteau brands are ongoing. Inmarsat's Arvid Karlberg said: "Talks are ongoing with other boatbuilder brands. In the UK we are already working with Oyster in respect of Fleet One and we are also talking with Princess yachts."
Over the past three years, Inmarsat has sold some 4,500 Fleet One packages and this is anticipated to increase to 9,000 by the end of this year.