The Welsh firm's LED lighting solutions can now be controlled through the latest Simrad and B&G MFDs
Underwater lighting specialist Lumishore has announced that its LED lighting solutions can now be controlled directly through the latest Simrad NSO and NSS evo3, select GO series and B&G Zeus3 Glass Helm, Zeus3 and Vulcan series multifunction navigational displays.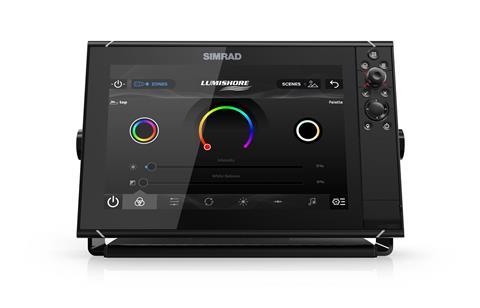 Offering sailors, cruisers and offshore anglers complete control of Lumishore's underwater and newly released Smart Lighting products, the easy-to-use Lumishore interface panel is intuitive and powerful. With a palette wheel for color selection and a horizontal slide bar for quick adjustments to lighting intensity, the interface allows complete personalisation of any vessel.
"We believe that the best products are not just the best designed, but also the easiest to use," says Lumishore CEO Eifrion Evans. "Now, sailors, cruisers and offshore anglers can set the mood instantly, right from their display. Whether you are trying to break up the monotony of a long passage or using underwater LEDs to attract fish to put on the table, our control panel puts total lighting control right at the tip of your fingers."
Lighting control on Simrad and B&G displays requires connection with the Lumishore Lumi-Link module. The compact, marine-grade black box is compatible with Simrad and B&G models running software version 18.2 or later, via a single plug-and-play connection.