New addition will bring Mercury Propellers' total footprint to 90,000sq ft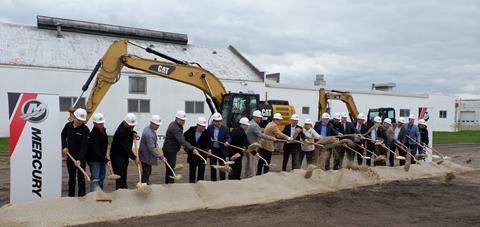 Mercury Marine has broken ground on a 30,000sq ft, US$17m addition to its propeller casting facility in Fond du Lac, Wisconsin that will nearly double the current capacity for stainless steel propeller production.
"We're bringing a fully modernised casting line into this plant that will make it not just the best propeller factory in the world; when we're done, this is going to be one of the greatest investment casting facilities in the world," sats Mercury Propellers general manager Dirk Bjornstad at a ground breaking ceremony at Mercury headquarters in Fond du Lac, Wisconsin. "We didn't benchmark against other prop plants, we benchmarked against aerospace and medical device manufacturers," he added.
Bjornstad said the 70 employees in the prop division "turn wax and stainless steel" into a propeller they are so proud of, they stamp it with a maker's mark.
Newly appointed Mercury Marine president Chris Drees said the increased capacity will be welcomed.
"We think there's a lot of upside on propeller sales with the [additional] capacity, we intend to fill as much of it as possible," Drees told IBI in his first industry interview since taking the job a month ago.
Drees is more than familiar with the propeller operation, having served as its general manager in his first senior management role at Mercury Marine.
"At that time, we were growing and expanding and developing new products – some of which are best-sellers today," Drees said. "So, it's exciting to come back and be expanding it and growing it [again]."
The new addition will bring the total footprint of Mercury Propellers to some 90,000sq ft, producing more than 400 different aluminium and stainless steel propellers, making it the largest producer of recreational boat propellers in the world.