Voyager Risk Solutions to offer superyacht service solution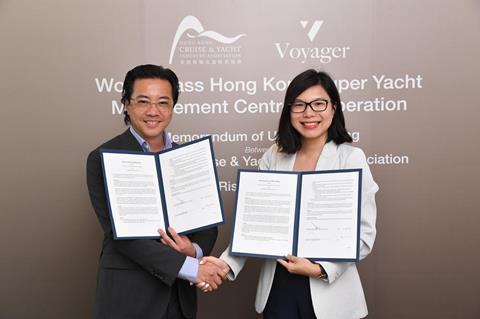 The Hong Kong Cruise & Yacht Industry Association (HKCYIA) has signed a Memorandum of Understanding (MOU) with Voyager Risk Solutions Ltd in a move to offer insurance solutions to the superyacht community in Hong Kong. The MOU follows the one signed earlier this year with the Singapore Yacht Show organiser to develop an international boat show in Hong Kong next year.
An arrangement has also been signed with the state-owned China Merchants Industry Holdings Co Ltd to develop a Superyacht Management Services Centre at Tsing Yi island. It will provide 'world-class' supporting services for superyachts of over 45m (148ft), including refit, repair and maintenance services.
These moves suggest that the HKCYIA is expanding its involvement with the yachting sector, particularly superyachts in Hong Kong. This organisation is linked with the China Cruise & Yacht Industry Association, which has links with the Chinese government.
The MOU was recently signed between Kara Leung, executive director of HKCYIA, and Tommy Ho, CEO of Voyager. In a statement, they said: "The agreement will further strengthen the two organisations' developments in the yacht industry, with increased co-operation and exchanges in tourism promotions in the Greater Bay Area."
Yeung commented at the signing ceremony: "Under the agreement Voyager will provide professional risk management and insurance consultation services to the HKCYIA in the opening and operation of its upcoming Superyacht Management Services Centre. Both parties will have regular meetings to seek further co-operations and communications that can enable services improvements and sustainable developments."
She added: "Hong Kong has a major role to play in its capacity as a 'super connector' in the implementation of the Belt and Road Initiative and the strategy to build the 21st century maritime Silk Road, providing the necessary support in the development of the maritime industries. It's a first in Asia and the Superyacht Management Services Centre will be a milestone development for the industry.
Talking about the new Superyacht Management Services Centre, Yeung explained: "The centre will work with international yacht brands and top management companies to provide a wide range of professional services, including repair and maintenance, audit and survey, bunkering services, crew administration, logistics support, etc. Exclusive onshore tours with tailor-made itinerary in the Area will also be provided.