Local Adamas group links with Italian Sea Group Asia for new venture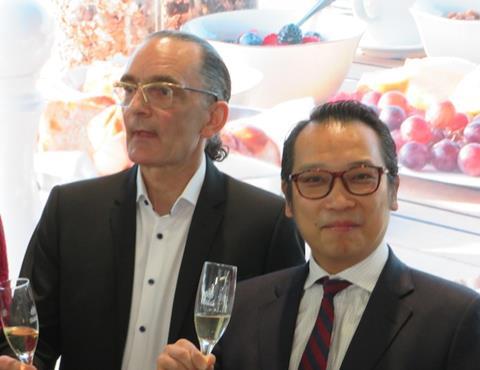 A new company, Adamas-T.I.S.G Asia Ltd, has been formed as part of a Hong Kong-based joint venture to build a fleet of superyachts and employ them in the Asian charter market. This new venture, which aims to take the Asian charter market up a level, was launched at Boot Düsseldorf 2020.
The new company has been formed by a partnership between The Italian Sea Group Asia (TISGA), the Asian arm of the TISG which owns the Admiral and Tecnomar brands, and Adamas Asset Management, a leading asset manager in Asia and also the exclusive Asian dealer for the Italian Sea Group.
The new company plans to offer Admiral and Tecnomar superyachts up to 145m (476ft) for charters across Asia. The company already has the 36m (118ft) Adamas 6, which is a Tecnomar EVO-120 Ice White edition. Another 36m and a 53m (174ft) are on order for delivery around the end of this year and 2021/22 respectively.
Barry Lau, managing partner and chief investment officer of Adamas Asset Management, told IBI: "Looking ahead, one of our next superyachts may be three digits in size. We believe there is an unrivalled opportunity in Asia to be the next superyacht destination of the world. "
He added: "Empirical evidence shows superyacht ownership in Asia is substantially lower than that of the US and Europe. We believe that the positive potential for Asia is immense, with the gap in superyacht ownership narrowing, and there will soon be a truly global market for the chartering business. Asia has some of the best waters in the world and as such will definitely have a meaningful share of the global charter market."
TISGA CEO Traugott Kaminski commented: "For outstanding individuals, a superyacht charter is the ultimate experience. For corporate clients chartering a superyacht also provides an extremely effective platform for VIP CRM, incentives and rewards for top performing staff, board meetings and the most impactful product presentations. With the strong support of Adamas Asset management, our new charter services under our joint venture offered will definitely set bench-mark after benchmark for the yacht charter business."
Paul Heffner, managing partner of Adamas Asset Management, remarked: "Adamas is extremely excited to partner TISGA and herald a new beginning for yachting enthusiasts both in Asia and globally. Adamas and our investors will support TISGA's expansion into both established markets like Hong Kong, Phuket and Singapore, as well as emerging markets like China, Vietnam, Cambodia and Indonesia."