New Zealand's Lusty & Blundell has moved its Tauranga branch to Sulphur Point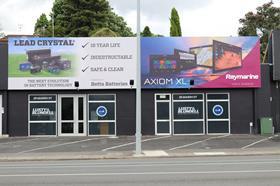 New Zealand's Lusty & Blundell Ltd (L&B) has moved its Tauranga branch to new premises at Sulphur Point.
Located within the new Tauranga Marine Precinct, the new branch at 26 Marsh Street is a full support and supply centre for L&B and its marine systems. These include the Raymarine and Vesper AIS brands of marine electronics, Ocean Signals' rescueME safety range, Xylem's Jabsco and Rule pumps and water handling solutions, Muir winches and many more.
Tauranga branch manager Morgan Brodie says the new location, longer opening hours and larger service facility will allow L&B to better service the area's continually-expanding marine industry and its growing number of commercial and recreational boaties and fishers.
"With the recent centralisation of marine activity around Sulphur Point, it makes sense to move our services, knowledge and products to an easily accessible location," says Brodie. "Our new Marsh St premises is perfectly positioned for experienced staff members Grant McMillen, Paul Jury, Kahlo Bubb, Sam Wilkinson and myself to offer all the products, service and advice this fast-growing region demands."
Lusty & Blundell is a leading distributor of top-quality marine products and systems in New Zealand. The company is headquartered in Albany, Auckland, with branches in Tauranga and Whangarei.