Florida-based Merritt Island Boat Works, which builds Ocean Alexander Yachts, reduces work force and production
Merritt Island Boat Works, which builds Ocean Alexander yachts, announced the company will be implementing a reduction in workforce for its Merritt Island Florida factory, effective immediately.
Ocean Alexander is a Taiwanese yacht manufacturer with shipyards in Kaohsiung, Taiwan and the United States, with models ranging from 45 to 155 feet. Merritt Island Boat Works builds yachts ranging in size form 45-70 feet.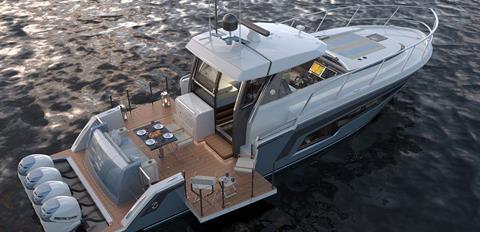 The builder attributed the reduction – covering 46 positions or 23% of the total workforce – to the continued escalation of the COVID-19 epidemic across the globe, forcing the company to take measures to align production with market conditions. Ocean Alexander also noted that the current supply chain has been disrupted across many component providers which in turn has affected the ability to work at capacity. "This, along with the forced closure of many cities and states, has also slowed the retail environment and the ability for our retail partners to distribute product effectively."
"The Merritt Island Boat Works management team is tremendously saddened with this situation that has come about so quickly," continued the statement. "It is in times like these that companies must make difficult decisions and we are currently maneuvering in unchartered waters as are countless manufacturers around the world. Ocean Alexander fully expects to continue to meet the market needs for the short term and are reviewing opportunities for greater long-term stability. Our hearts go out to the team, family, and friends that have been affected by this world pandemic and look forward to focusing on our personnel and clients as we work diligently to get through this trying time."
The statement said the factory will remain open and monitor guidance with regards to local, state, and federal officials and will comply as necessary with additional restrictions.
Ocean Alexander reported 'accumulated' revenues of NT$3.69 billion (US$113 million) for the 12 months ending December 2019, a 6.7% decline over the previous year. For the first two months of 2020 accumulated revenues are up strongly to NT$125 million (US$ 4.2 million) compared to NT$33.6 million for the same period a year ago.