The 60ft catamaran is being retired in favour of a modernised version, the Balance 620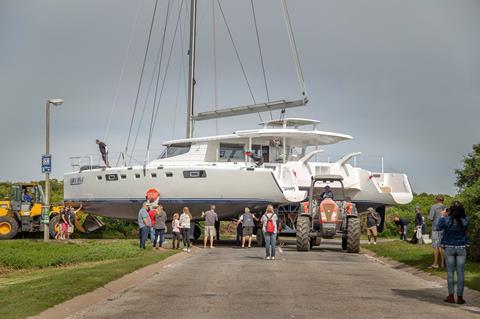 South African joint venture partners Balance Catamarans and Nexus Yachts have launched the last of their original model, the 60ft Balance 601, in St Francis Bay. The model is being retired in favour of a modernised version, the Balance 620, which is currently in the tooling stage.
Nexus yard manager Roger Paarman said the latest launch was a milestone in the evolution of the Nexus/Balance project. "It [the 601] was the original boat. We felt that design was a little bit dated – it was designed 12 or 13 years ago," Paarman said. "We're keeping the same hull shape but basically giving the boat a good facelift," he said.
The last 601, the Lyra Noa, was launched earlier this month at Port St Francis where she will remain for commissioning. It means boat number nine will soon go onto the yard floor, Paarman said, adding that the St Francis facility was currently being expanded by around 1,200sq m.
Balance Catamarans president Phil Berman said the redesign and modernisation of the Nexus/Balance was the next step for the joint venture team. "The redesign is being done in a partnership with Du Toit Yacht Design, Anthony Key, Balance Catamarans and Nexus Yachts. She is now called the Balance 620. A new factory was just set up, and the tooling for the boat will commence shortly," Berman said.
The 620 will incorporate some of the features of other Balance models, including the versa-helm concept of the Balance 526.