New office based at Gold Coast City Marina & Shipyard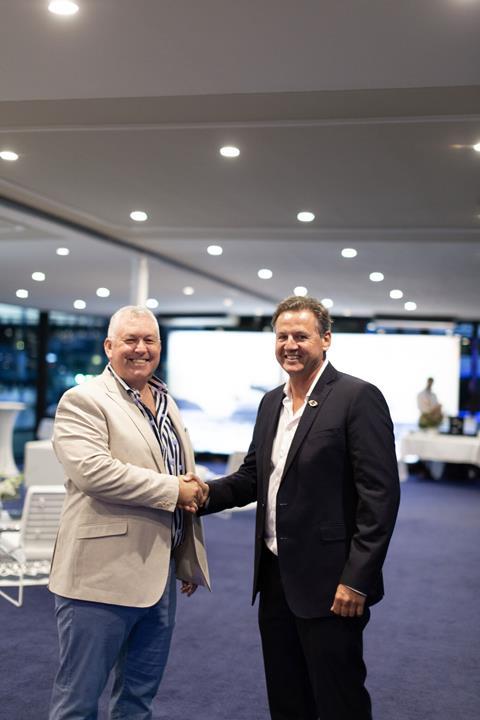 One of the newest tenants at the Gold Coast City Marina & Shipyard (GCCM) is Sunseeker East Coast Australia (SECA), the official dealer for the leading UK luxury yacht brand. The Sunseeker East Coast Australia dealership covers the key markets in Australia of Queensland and New South Wales plus Victoria.
News of this new development was made known at the recent Sydney International Boat Show by Brad Rodgers, general manager of SECA. Commenting on the move to open the office at GCCM, Australia's most awarded and largest yacht refit and repair facility, Rodgers said: "There is a great opportunity for the Sunseeker brand in Australia and, specifically, on the Gold Coast. We needed a location which would allow us to tap this market as well as support Sunseeker owners in after sales service. GCCM stood out as the clear option."
Sunseeker East Coast Australia will have a sales suite and aftersales service centre overlooking their demonstration yachts secured in GCCM's superyacht berths. The absence of the Sunseeker brand exhibiting at the Sanctuary Cove International Boat Show in May was noticed and remarked upon, but maybe this new office provides the answer.
As for GCCM adding another leading brand to its tenant portfolio, Trenton Gay, CEO of GCCM, said: "We are delighted to welcome Sunseeker East Coast Australia to GCCM. We have been servicing yachts for nearly 20 years now and have developed Australia's leading group of marine contractors and trades. It is our collective expertise and experience which gives brands such as Sunseeker the confidence to invest."
Sunseeker joins world-leading marine brands aligned with GCCM, including Hill Robinson, Seal Superyachts, IGY Marinas, Benetti and International Paint. GCCM is also home to over 80 onsite marine businesses employing over 700 tradesmen and craftsmen. Approaching its 20th anniversary, it is the most awarded marina and shipyard in Australia taking the inaugural Hall of Fame Award from the Marina Industries Association.
"The Gold Coast is presently enjoying a surge in yachting as owners and crew wake up to the lifestyle and marine services available in the beachside city. GCCM is at the epicentre – attracting yachts up to 75m(246ft) – seeking maintenance, refit and repair work. We are investing, as are the Gold Coast City Council and Southport Yacht Club, in infrastructure for bigger yachts. Sunseeker along with our other international yachting partners will benefit from this expansion," continued Gay.
Sunseeker exhibited four luxury yachts SIBS. "Australia is a developed luxury boat market, yet we are seeing buyers' appetite for our large yacht range growing changing the dynamics of our sales strategy," said Rodgers.