The Slovenian boatbuilder signed up 12 new dealers last year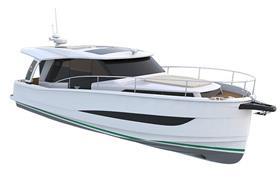 Slovenia's SVP Yachts, producer of Greenline, OceanClass and Shipman Carbon Yachts, signed up 12 new dealers in 2018.
After adding ULTRAMARIN in south Germany at the beginning of 2018, SVP grew its presence in the country by signing up Yacht Center NRW in Düsseldorf.
Headed by Torben Budde, Yacht Center NRW began by importing used boats and specialised in refitting them. The company has since grown into one of the biggest dealerships in the Düsseldorf area, with sales, service and winter storage.
In Norway, SVP has started working with W-Yachts with offices in Stavanger and Oslo. W-Yachts was founded by Ola Andre Worre and his father Paul Vidvei Worre in 2007 and specialises in sailing and trawler type yachts, making Greenline Yachts a good fit into their product portfolio.
In Denmark, Greenline Yachts is represented by FloorYachts, founded by Danish marine expert Michael Floor. FloorYachts has an indoor showroom located in Randers on Denmark's east coast. Their debut with Greenline Yachts will be at the Fredericia Boat Show with the Greenline NEO on display.
SVP has also signed up its first dealer in Italy. M3 Servizi Nautici is a family business with more than 30 years' experience, based in Andora close to Sanremo on the Italian west coast with offices in Andora and Lavagna.
"Italy is a big market and we will be adding dealers in the east and in the south of the country shortly, but M3 Servizi Nautici has the prime spot and are very well respected in the area which is the kind of establishments we are looking forward to working with in the future," says Luca Meffle, head of sales and marketing at SVP Yachts.
SVP has also signed up TOT Nautic in Palma de Mallorca, Spain. TOT Nautic is one of the largest boat sales companies in the Balearics with an indoor and outdoor showroom. TOT Nautic is also a family-run business headed by CEO Jimmy Schwartz, the second generation owner of the business.
SVP also started working with Clipper Marine in the UK just prior to the Southampton Boat Show in September. Clipper is a well-established boat sales company with years of experience and six offices across the UK, with Matthew Attree and Richard Hewett at the helm.
And finally, SVP is also growing its presence in the Southern Hemisphere. The company recently signed up Mares Chile, a well-established boat sales company with a major focus on sailing yachts. The Greenline Yachts range will compliment Mares Chile's range nicely, asthe majority of Greenline owners are former sailors. The first Greenline 33 is already on its way to Chile.