As with other peers in the recreational sector, BRP saw continued momentum in consumer demand and growth in new entrants through its FY2021 third quarter, ending 31 October.
"We are very pleased with our results as our strong line-up continues to gain market share globally," said José Boisjoli, president and CEO, in his opening remarks to analysts. "The surge in demand for our products has offered a major opportunity for us to continue this pace and we are working hard to maintain it. We expect this positive trend to continue over the next quarter, and based on this, we are increasing our year-end guidance with normalized EPS now expected to be up 31% to 37% vs. last year."
Revenues for the third quarter reached C$1.67bn, an increase of C$31.1m or 1.9% year-over-year, while net income (after taxes) jumped 47% to $198.7m.
For the corresponding nine-month period, revenues decreased by 6.7%, to C$4.14bn compared with C$4.44bn in 2019, while net income was down 61% to C$98.7m compared to C$252.4m. BRP said the revenue decrease was primarily attributable to a lower volume of Seasonal Products due to the Covid-related suspension of production during part of the first half of fiscal 2021. It also pointed to a lower volume of marine products sold due to the wind-down of the Evinrude outboard engines production, and the impact of wind-down costs on profitability.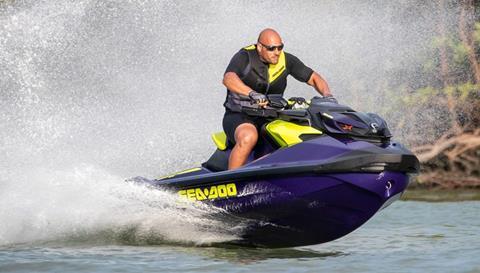 Personal watercraft sales are reported in the company's Seasonal Products division and suffered a downturn because of limited product availability due to the production shut downs earlier in the season. BRP said overall retail growth in the third quarter for Seasonal Powersports was up 16% compared to an industry average of low-teen percent increases. However, without PWCs retail growth would have been 29%. The company reported retail growth for PWCs over the three months to October down more than 50%.
At the same time, North American boat retail sales increased by 8% for the first nine months of the fiscal year, compared to the same period in 2019. And looking forward, PWC pre-season consumer certificates at the end of October were already up 12% compared to the same time last year. BRP also noted a strong response to introduction of a new version of its Sea-Doo RXP-X300.
BRP's boat brands include Manitou pontoons, Alumacraft and Telwater.
The company has provided guidance for the remainder of fiscal year 2021, projecting Marine revenues will be down 25-30%, compared to 2020 full year revenues of C$560m. BRP is expecting total revenues to be off the prior year total of C$6.05bn by 1% to 5%.
The Company's Board of Directors authorised, subject to approval by the Toronto stock exchange, a share repurchase for cancellation of up to approximately 4.3 million subordinate voting shares over the next 12 months, representing approximately 10% of the company's public float. The Board also declared a quarterly dividend of $0.11 per share.