Singapore-based Grand Banks reports lower revenue and profitability for 2019, but remains bullish about 2020 based on a robust order book and four-years of restructuring initiatives
Grand Banks – manufacturer of the Grand Banks and Palm Beach yacht brands – announced fourth-quarter and 2019 fiscal year-end results yesterday. The company noted that Group revenue for the year ending June 2019 was down 2.9% to S$79.6 million while profitability also shrunk to S$122,000 from S$4.5 million the previous year – which the company attributed to having fewer boats at a mature stage of production, and lower brokerage commissions.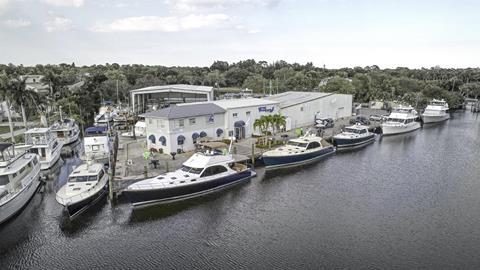 At the same time, Grand Banks said its order book for the year was up 40% from the same period in 2018 a year ago to S$54.6 million, arising from 11 new orders and three trade-in boat orders in the final quarter. The company delivered 24 boats in its last fiscal year 2018 up from 16 the previous year.
Mark Richards, CEO of Grand Banks, said: "Following our successful restructuring initiatives over the past four years, Grand Banks is poised to bear the fruits of its labour. With a stronger foundation for growth, a wider range of boat models and a larger, state-of-the-art factory in Pasir Gudang, we will be able to push out orders faster than ever."
Grand Banks has manufacturing yards at Pasir Gudang, Johor, Malaysia, and Berkeley Vale, Sydney, Australia, producing yachts ranging between 42 feet and 70 feet. In May 2018, Grand Banks also acquired the Stuart Yacht Corporation in South Florida for US$3.2 million to serve as its US headquarters and provide yard services to its North American client base, private docking and an exhibition venue.
The company also announced the debut of the Grand Banks 54, Palm Beach GT60 and Palm Beach 70 at four forthcoming boatshows in USA.
The Group was listed on the Singapore Exchange Limited ("SGX") in 1987 and upgraded to the Main Board in 1993.