This year's event will be 20% larger than last year's edition, reflecting a buoyant leisure boat market in Kuwait
The 7th edition of the Kuwait Yacht Show (KYS), which opens on March 26 at Marina Crescent in Kuwait City, is expected to be its biggest yet.
Speaking to IBI in the run-up to the show, KYS director Nouf Al Hajeri said: "Over the past year, we have been working to make the Kuwait Yacht Show more international in terms of exhibitors, media and visitors, building on the strong local support we have gained over the last seven years.
"We received 15,300 audited visitors in 2018," she adds. "This year's show is now fully booked and, with an additional marina pontoon available, we have 40 on-water berths and over 80 exhibitors confirmed, the largest show we have ever organised, a growth of 20% compared with our 2018 event. This reflects the very buoyant leisure boating market in Kuwait at the present time."
According to Al Hajeri, key international brands at the exhibition will include Azimut Yachts, Ferretti Group, Four Winns, Kawasaki PWCs, Majesty Yachts, Mercury engines, De Antonio, Princess Yachts, Sea Ray, Sunseeker, Seadoo PWCs and Suzuki engines.
Local Gulf boatbuilders will include Kuwait-based Gulf Master, Suprema Marine from Bahrain, Al Shaali and Gulf Craft from the UAE.
According to Gulf Craft marketing manager Mahmoud Itani: "We are planning to exhibit the whole new Nomad Yachts long-range cruising range in addition to the Oryx and our SilverCat brands."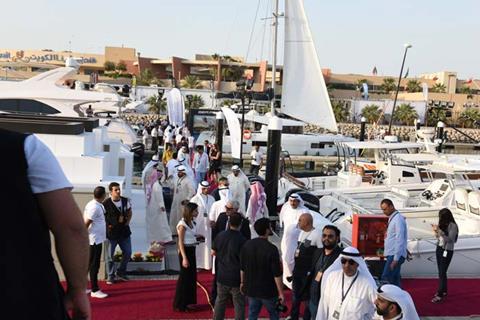 The Kuwait boating market is the largest in the Gulf with an estimated 18,000 boats. While the majority are between 25ft-40ft and trailer-mounted with outboard motors, there are also an existing 2,000 berths which are full in marinas.
The shortage of marina berths cut sales of larger yachts in the past, but the opening three years ago of the new Sabah Al Ahmad Sea City with an initial 410 berths changed the dynamics of the market, opening up sales of larger yachts.
Local industry members Hashem Abul, Adel Al Summait, Fahed Al-Ghareeb and Ahmad Al-Ameeri voiced their support for the Kuwait Yacht Show in a press statement: "When, seven years ago we were asked to participate in the 1st edition of KYS, we joined full of faith that together we will be able to create a national event awaited by all.
"Today we can say this vision is getting closer and closer to our aspiration. But still, more needs to be done. However, PH7 – the organisers of KYS – and we, the exhibitors, are sparing no effort and we are full of hope, that together, we shall keep raising the bar year after year."
The Kuwait Yacht Show was recently awarded silver membership of the International Federation of Boat Show Organisers (IFBSO), with Nouf Al Hajeri being appointed as the first Arab member of the IFBSO Executive Committee.
IBI will be reporting from KYS, which runs from March 26-30 at Marina Crescent, later this month.