Theme for 2019 is 'Driving innovation and sustainability'
The program and list of speakers has been announced for ASMEX 2019, the flagship conference in Australia for the international marine industry.
The theme for ASMEX 2019, to be held from Monday May 20 – Tuesday May 21, at the InterContinental Sanctuary Cove Resort on the Gold Coast, is 'Driving innovation and sustainability' and the program will include a focus on environmental and sustainability initiatives driven by the marine industry and latest innovations in this area. The list of speakers and topics is as follows: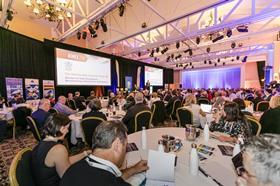 Craig Norris, CEO, Victoria International Marina and Nigel Beatty from The Someya Group Limited, Japan discussing their northern Pacific rim perspectives and the impact on the southern hemisphere
Aaron Young, Vice Commodore, Royal New Zealand Yacht Squadron speak on the latest planning and progress on the 36th Americas Cup in Auckland
Vasco Buonpensiere from Canteriere delle Marche present on Australia and the global supply chain
Andy Ridley, CEO Citizens of the Great Barrier Reef provide an overview on the true state of the Great Barrier Reef
Mark Stothard, Echo Yachts share the amazing experience of the innovation and journey of the build of White Rabbit
Carmen Lau-Stratton, Camper and Nicolson Asia, Peter Mahony from Benetti Asia, Andy Shorten, The Lighthouse Consultancy and Zara Tremlett, The Superyacht Services Guide discuss progress in the region from sales, cruising, chartering and infrastructure perspective
Rob Miley, Tasmania Maritime Network and Roger Janes, Richardson Devine Marine Construction and others on the current marine industry in Tasmania from shipbuilding, refit + repairs and ferry building to tourism, cruising grounds and vessel visitation levels
Matt Zadnikar, CEO, SeaNet on his journey from sailing, to building and owning a luxury superyacht
Nigel Beatty will also present on the latest developments in Japan for the RWC this year and the Tokyo Olympics in 2020
Kiran Haslam, Princess Yachts and Vasco Buonpensiere on how can Australia make more of an impact in European markets ?
The Superyacht Australia panel - Barry Jenkins, Peter Redford, Cameron Bray, Kathleen Ferguson and Chris Blackwell discuss the impact of three global international events in the Pacific + the opportunities it provides the Australian industry
Martin Redmayne, The Superyacht Report and David Good, CEO, AIMEX speak on the state of the superyacht industry globally and locally.
The conference will include a gala dinner to be held on the evening of Tuesday May 21, 2019. For tickets and more details about the conference click here.