The 86m Aquijo is billed as the largest high-performance yacht in the world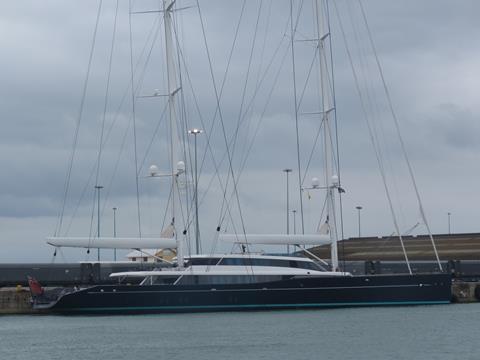 South African maritime stakeholders have welcomed one of the world's premier superyachts just days before the start of the Cape Town International Boat Show this coming weekend.
The 86m Aquijo is billed as the largest high-performance yacht in the world, featuring 90m masts carrying identical 1,192sq m mainsails. She is currently docked at the V&A Waterfront inside the port, according to V&A executive head of marine and industrial, Andre Blaine.
"She will be here over the boat show and will be here for a while," Blaine said.
Although not formally part of the boat show to be hosted inside the V&A marina facility, Aquijo is sure to attract a throng of admiring boating enthusiasts. Earlier this month she made history as the biggest vessel of her kind to visit the Port of Port Elizabeth, 800km east of Cape Town.
In a statement issued this week, Transnet National Ports Authority's (TNPA) Port Elizabeth Port Manager, Rajesh Dana, said Aquijo's visit paved the way for similar yachts to visit and inspire local interest in the port. "The visit of the luxurious superyacht to the Port of Port Elizabeth reinforces the Port's vision of being a 'World Class Smart People's Port' and promoting the increasing presence of maritime leisure and recreational activities in Nelson Mandela Bay."
Aquijo is a charter vessel, owned by a European businessman who employs an international crew. In the past five months she has visited Vanuatu, Solomon Island, Papua New Guinea and Indonesia.
The reformatted Cape Town show gets underway on Friday with several new additional draw-cards aimed at breaking through the 10,000 visitors mark.
Among the new attractions are an open water second-hand boat exhibition area and new luxury lifestyle space inside the V&A's Robinson Dry Dock.