The Grand Pavois La Rochelle boat show ended its six-day run yesterday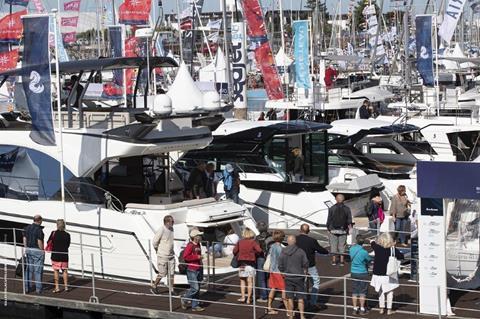 The Grand Pavois La Rochelle in-water and land-based boat show, which ended its six-day run yesterday, serves buyers from a wide catchment area on the Atlantic coast of France from Le Havre to Biarritz with visitors also attending from Paris and further afield and a small contingent from Spain and Belgium.
The previous week the Federation des Industries Nautiques (FIN) released very positive data on the industry's sales in France and abroad for last year and many exhibitors appeared optimistic about future domestic business when talking with IBI.
Fine weather assisted in attracting close to 80,000 attendees to a show that reflects the characteristics of the core of the French market, which is focussed on the sales of 4m-8m power and sail boats. Eighty per cent of the 800-plus boats on display fell into this category. The exhibition is also a showcase for a strong contingent of catamarans of up to 16m from most of the leading builders.
This was the 47th edition of the exhibition which originated as a sailboat show but which over the years also developed into a display of small- to medium-sized powerboats that now well outnumber the sailing element.
The central feature of the marina basin accommodates approximately 300 boats afloat. Group Beneteau's participation at its home show is comprehensive and, as Jean-Paul Chapeleau who manages the Jeanneau division explained to IBI, its sales In France still account for a significant proportion of European turnover – totalling some 50% of the group's worldwide business – which exceeded €1bn last year.
In what is probably a world record for a single company at a boat show, Beneteau exhibited 69 different models of under 60ft across all its European-built brands.
The Grand Pavois organisation also announced at the show that it was working on a feasibility study with the city of Qinhuangdao to jointly launch a water festival and boat show next year in the city in the north of China. Representatives from Qinhuangdao and the Charente Maritime Department's foreign trade team met at the show with the organisers to progress this cooperation.
Next year's exhibition will be held from September 30 to October 6, which will allow a much greater separation from the Cannes show and ease the problems created by the three-day window to transfer boats between the two exhibitions experienced this year.