Milestone anniversaries and alternative-fuel power are a common theme for this year's MIBS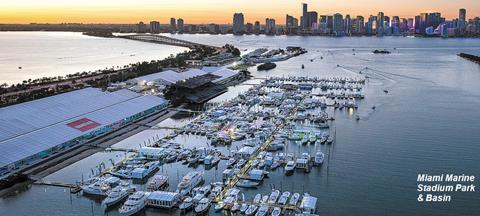 Around 100,000 visitors from around the globe are expected to descend on South Florida today through Sunday for the Miami International Boat Show (MIBS), Miami Yacht Show and Super Yacht Miami, with nearly 2,000 boats and 1,000 exhibitors selling everything and anything to do with boating.
The once separate Strictly Sail show has been merged into MIBS and renamed Sailor's Cove, featuring 75 unique sailboats of all sizes, while the Miami Yacht Show has relocated to a larger venue downtown after 30 years on Miami Beach. The shows bring an estimated US$850m to the local economy.
A traditional showcase for new product introductions from manufacturers worldwide, milestone anniversaries and alternative-fuel power are a common theme for this year's MIBS.
Germany's Torqeedo and General Motors are both slated to announce new inboard electric motors, while engine builder Indmar is teaming with Ford on what it calls its exclusive eco-technology.
Mercury Marine is offering a 5hp outboard that operates on propane gas, which president John Pfeifer explained gives boaters – especially in remote areas – access to a portable, multi-use fuel source that burns cleaner than petrol. On the other end of the spectrum, the company has released a 400hp version of its popular Verado, the supercharged 2.6 litre outboard.
Celebrating Mercury's 80th anniversary, Pfeifer said the company is "just hitting our stride in product innovation." Pfeiffer differentiates the new 400 Verado from the Mercury Racing 400R by equating the products to Mercedes Benz and Mercedes AMG, the high-performance brand of the German automaker.
And while on the subject, Mercedes AMG and Cigarette Racing Team have collaborated yet again on a show-stopping concept boat, Cigarette-AMG 41 Carbon Fiber Edition. Powered with four Mercury Racing 400R Verados, the 41ft boat is said to reach a top speed of 88mph.
Celebrating 50 years, Cigarette is synonymous with go-fast boats and is also offering a commemorative edition of its classic 38 Top Gun, the iconic model of this iconic brand. With custom paint and a CNC-machined stainless-steel 50-year anniversary plaque, it can hit 88mph with a pair of Mercury Racing 565 sterndrives. The company is also offering a new 59ft Tirranna powered by six Mercury Racing Verado 400Rs and has a 1,000-gallon fuel tank.
Known for solid offshore fishing boats, the Regulator 26XO is a "crossover center console" design for easier access to inland waters.
"Our customers have been asking for a Regulator that can take them into skinny waters but still go offshore, a boat that maintains our commitment to quality and sportfishing but focuses more on the recreational aspects of boating and family time on the water," said Regulator Marine president and co-founder Joan Maxwell in a statement. Powered with a single Yamaha F300, the 26XO will feature more than 122sq ft of deck space.
Yamaha WaterCraft is also unveiling a new 27ft jet boat featuring a first-of-its-kind low-speed handling technology and Sea-Doo is launching the Fish Pro 155, the first PWC factory-built and equipped especially for fishing.