Fine weather and atmosphere encouraged good number of sales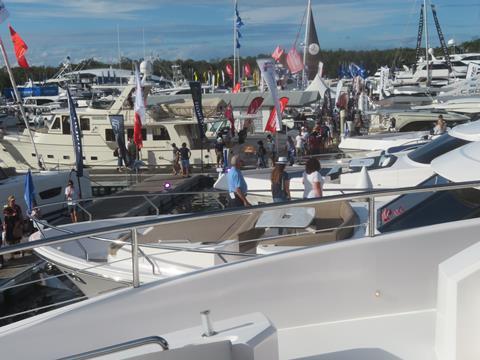 A number of well-experienced Australian marine industry executives have declared the 2019 Sanctuary Cove International Boat Show (SCIBS) the best in the event's 31-year-history, with record crowds, good weather and multimillion-dollar sales proving a successful combination.
With around 47,250 people attending the event, a 3% increase on last year, exhibitors were united in their assessment that SCIBS 2019 had delivered, as motivated and well-informed boaties came looking to buy and spend.
SCIBS organisers said 2019 was one of the biggest shows yet, with 182 boats on-water and 423 boats on land across The Marine Village precincts, along with 334 individual exhibitors on display.
Princess Yachts' new dealer principal, Greg Haines, who has attended every SCIBS since the inaugural edition in 1988, said: "This year's instalment topped all those that came before it. It's the best boat show I can remember. We have plenty of sea trials lined up for next week and things are looking very positive."
Palm Beach Motor Yachts (PBMY) hosted the premiere of the Palm Beach GT50, along with the PB50 classic and the 2019 PB65 Fly. CEO Mark Richards said SCIBS 2019 was the company's best show for 'a few years', which he attributed to excellent product and people, and good election results. "It has been very positive for us, with a few sales and a lot of leads to follow up," he said.
Luxury cruiser manufacturer Maritimo described SCIBS 2019 as a major success, with multiple sales across its product line, including a couple of X50s and a few flybridge models. Maritimo CEO Garth Corbitt said: "The total number of sales will not be known for several weeks as current deals are negotiated and finalised, and buyers conduct sea trials. With many millions of dollars of deals finalised and more pending, our forward order pipeline is extremely healthy."
At its purpose-built Riviera Yacht Club, motoryacht builder Riviera hosted owners and guests for its annual Riviera Festival of Boating, which attracted around 700 attendees from across the world for three days of education and socialising.
The company's 12-boat line-up included four world premieres – the 54 Enclosed Flybridge; Riviera Sports Yachts 4800, 5400 and 6000 Platinum Edition Sport Yachts – all of which attracted a slew of new owners.
"We are extremely happy to welcome lots of new owners into the Riviera family," said Riviera's Stephen Milne. "There was a great response to our new product and a positive sentiment among visitors."
A spokesperson for The Haines Group, the exclusive distributor of Suzuki Marine outboard motors, said SCIBS 2019 had been a great show for the company. He commented: "We've sold boats with many, many leads to follow up. It's been a great show."
Whitehaven Motor Yachts and Integrity showcased the Harbour Classic 40, along with two Whitehavens and a line-up of Integrity Motor Yachts. "We have been pleased with the numbers and quality of the crowds," said Whitehaven co-owner Bruce Scott. "There has been great interest in our offering and we have several sea trials planned for the week ahead, which we're confident will convert to sales over time."
Multihull Solutions launched the Iliad brand of premium, long-range power cats to an enthusiastic reception. "The show was an outstanding success for Multihull Solutions, particularly with the highly-anticipated launch of the new range of Iliad Catamarans," director Mark Elkington said. "The Iliad 50 showcased at SCIBS was sold five minutes prior to its official launch on Friday night, and two additional orders were placed on the 50 the next day.
"In addition, an Iliad 60 was placed under contract at the show and strong interest was registered in the Iliad 70 and 90."
Multihull Central's Brent Vaughan said the response to the Australian launch of the Seawind 1600 was outstanding. "We had four boats across different segments and we've been so busy," he commented. "We recorded close to 750 leads over the weekend. We've had strong interest overall – no confirmed sales but plenty of leads across the range, with good, strong, proper enquiries."
Leopard Catamarans' Wayne Richards said he was ecstatic with the feedback to the company's Leopard 45. "We've never had so many people through," he said.
In The Marine Village, Nitro Marine enjoyed sales of several smaller model Sea Jay and Polycraft boats and "quite a lot" of Mercury engines, as well as interest in bigger models.
Sirocco Marine North, representing BRIG RIBs, Williams Jet Tenders and its own brand, Sirocco, had "an absolute ripper of a show", according to dealer principal Dylan Lopez. "This brilliant weather brought the people out. It has been a brilliant show for us. We have sold 17 BRIGs, 15 Siroccos, three Williams and The Sealegs 9m Interceptor, with around 50 strong leads to pursue next week."
RIB Force, representing AB Inflatables and Aurora RIBs, was prominently positioned at the SCIBS entrance, with dealer principal Mike Orsmond saying the team had been "very busy. We have had plenty of sales and orders to June next year so we're satisfied with this year's SCIBS," he said.
It was a similar story across all parts of SCIBS. Fusion Entertainment's Chris Soeters said: "SCIBS 2019 had been the best for the company in a number of years."
Garmin QLD/NT manager, Gordon Triplett, said: "The trade and consumer response across the entire four days of the event had been really positive."
SCIBS will return to Sanctuary Cove in 2020, with the event set to be held from May 21-24.