Facility now offers 227 berths up to 90m
A major expansion of Port Louis marina has recently been completed by Camper & Nicholson Marinas (CNM). The expansion, to meet growing demand and completed at an undisclosed price, includes an additional 90 berths for yachts between 12m (39ft) and 22m (72ft) located on two new piers. Marintek supplied the new pontoons and four extra jobs have been created as a result of the expansion.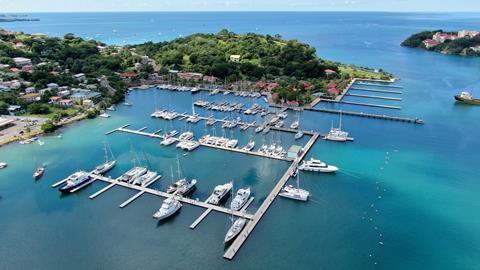 This key yachting hub marina now offers 227 berths which includes 11 for superyachts up to 90m (295ft). A CNM spokesperson told IBI: "The expansion was in response to growing demand for berthing at Port Louis Marina, and cruising the Grenadines." The berth occupancy level at Port Louis is in excess of 90% both pre- and post-season.
"Grenada's unspoiled sailing grounds and safe surroundings have made the destination a hub for yacht stop-offs and extended cruises," said Grenada Tourism Authority (GTA) CEO, Patricia Maher. "After a bumper growth of 14% in yachting arrivals in 2018, we are pleased to maintain the momentum with 20,954 visitors visiting our shores year to date in 2019; we are thrilled to be amongst the world's top boating spots."
CNM report that Grenada is increasing in popularity and Port Louis Marina continues to be the destination of choice on many superyacht and charter yacht itineraries. The GTA met with the Port Louis Marina team to open the new pontoons at the marina and congratulate the marina on offering the excellent marine berthing facilities to the island of Grenada. The expansion allows for a larger number of yacht visitors, and provides new long-lease berthing options in the marina.
Charlotte Bonin, Marina manager at Port Louis marina commented; "We have seen an increase of demand for seasonal and visiting yachts to Port Louis Marina, and the offer of the new berthing is to better facilitate charter yachts visiting the island of Grenada, and further support sailing events and regattas with more berthing solutions. We are delighted to open in time for the Caribbean season!"