Work to be done over next 18 months in two winter seasons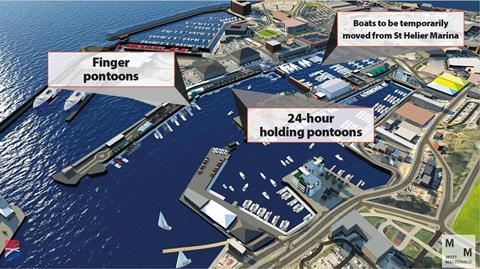 Two major refurbishment projects valued in the region of £3.5m have been announced by the UK's Ports of Jersey in respect of marina facilities in St Helier. The work will be carried out over the next two winter seasons so that disruption to yacht movement is minimal.
The two refurbishment schemes will enhance the facilities and services along the berthing pontoons on Albert Pier and St Helier Marina as part of the overall harbour masterplan. A spokesman told IBI: "We have purposely not made this public so as not to influence the tender process but it is circa £3.5m."
For both projects a tender process is underway to appoint contractors for the work. The spokesman said: "Ports of Jersey uses the Proactis tender portal and all appropriate details required by a potential contactor will be detail on this portal. Any company registered on Proactis who has the ability to supply to Jersey is eligible to bid."
Phase 1 of the works programme, which, subject to final design, planning approval and the appointment of a contractor, is due to start towards the end of 2019 and will see the creation of new 24-hour berthing pontoons along the Albert Pier. This new pontoon will be able to berth yachts up to 24m (79ft) and it will have an available depth of about 4ft.
Phase 2 of the project, to be carried out in 2020, involves upgrading the pontoons at St Helier Marina. For both phases, Ports of Jersey held discussions with existing commercial operators and leisure users who regularly utilise the Albert Pier, holding a series of workshops and design planning sessions. The work is being carried out in direct response to their requests for enhanced berthing opportunities and although it was not planned to take place for another four years, due to the overwhelming support from the marine leisure audience, it has been decided to accelerate the work to start earlier.
Detailed design plans have now been drawn up and Ports of Jersey will be further engaging with interested parties. Work is planned to take place over the winter period in order to minimise disruption to harbour users and is due to be completed in time for the start of the 2020 boating season.
A comprehensive engagement programme with users of St Helier Marina and marine traders has involved some 30 workshops and allowed numerous options and layout designs to be considered. The feedback from those who took part in the discussions has been very popular and the final solution to take forward to planning and future design stages was overwhelmingly supported by the berth holders.
There is likely to be some impact to users in St Helier Marina during the works programme, but this is inevitable during such a major project and boat owners will be regularly updated and informed throughout the project.