Sale of its upholstery production division said to leverage operational efficiencies while providing capital and space for future growth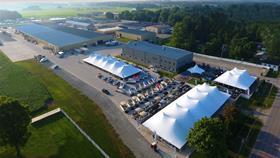 US boatbuilder Smoker Craft Inc announced Friday that the company has sold its in-house marine furniture manufacturing operation to Elkhart, Indiana-based Lippert Components Inc (LCI).
The sale, which impacts approximately 100 employees, will see the furniture business continue to operate from its current location at Smoker Craft's New Paris, Indiana manufacturing complex for at least several more months in sync with the company's current production run, before moving to LCI-owned facilities in the local area.
It includes a five-year, non-exclusive supply agreement that will see LCI supply Smoker Craft with the vast majority of upholstery and seating products used in its fibreglass, pontoon and aluminium fishing boats, which are sold worldwide under the Smoker Craft, Starcraft, Starweld, Sylvan and SunChaser brands.
"We feel very comfortable with the Lippert team and believe the cultures at Lippert and Smoker Craft are an ideal fit," said Smoker Craft president and CEO, Doug Smoker. "In the future this move will free up manufacturing space, giving us the ability to concentrate on building boats. We are excited about this relationship, as well as the as the team concept and core values Lippert brings to our business. Proceeds from this transaction will facilitate future infrastructure investments, acquisitions and improvements through other areas of our supply chain."