New X-Shore craft combines Scandinavia design and expertise
A new fully electric-powered utility tender, the X-Shore (Cross shore) eElectric 8000 craft, has been developed by a number of specialist Scandinavian companies along with Torqeedo.
The Swedish serial entrepreneur, Konrad Bergström, has developed the X Shore (Cross Shore) craft, a new, fully electric utility tender, that mixes Scandinavian design with heavy-duty practicality and respect for nature. The tender was developed in cooperation with Hans Bergström, Jeppe Cavallie, Glenn Karlsson from Seamaster and the Norra Norr design house.
"The X Shore team has set fresh eyes on the task of designing a tough, yet elegant, superyacht tender," said Christoph Ballin, CEO of Torqeedo. "An electric tender offers many advantages to the yacht owner, including reduced maintenance and a simplified fuel mix onboard."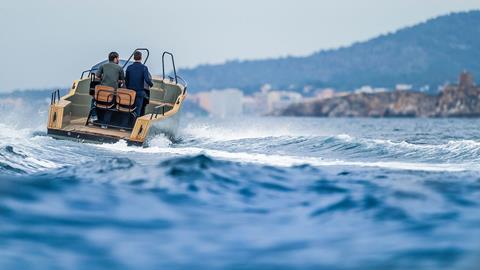 The X Shore eElectric 8000 has a distinctive Scandinavian state-of-the-art hull design which provides clean, simple and functional lines. The Glenn Karlsson-designed hull takes in air from the sides, reducing friction and increasing efficiency. The innovative hull shape allows the vessel to handle offshore conditions and the twin inboard Torqeedo motor system with batteries by BMW i delivers a quiet and emission-free boating experience.
"We want the owner of the eElectric 8000 to see the quiet journey as a part of the experience, to cruise the seas without disturbing wildlife and our sensitive waters," said Marcus von Euler, Head of Design at Norra Norr. "It's a magic feeling gliding across water, only hearing the wind and the sound of the bow splitting the waves."
The tender has a wide, open layout allowing it to haul cargo or have guests stretch out to bask in the sun, and the rubber-clad bow makes mooring easy. The flexible seating areas in the stern make it easy to treat friends or yacht guest to a silent sunset cruise, anchor in a quiet harbour and go for an evening swim. A system of struts and rails makes it easy to secure different types of loads or add more seats for maximum utility.
"We all come from the ocean; we must learn to take better care of it." explains Konrad Bergström. "X Shore is a boat for the smart generation. It is economical, durable, and cleverly designed. And it's quiet. We built it for you to love it." The new tender was displayed at Salon Nautique de Paris.