Marine tourism opportunities a key area of development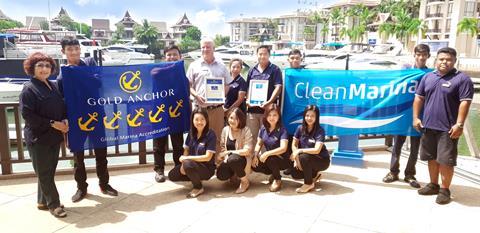 Thailand's economy is experiencing hard times due to the US-China trade sanctions, a drought and a bull market for the Baht. In response, the government has launched a Baht316bn (US$10.3bn) stimulus package specifically focused on tourism and agriculture. Expanding marine tourism is a key element of Thailand's tourism industry development plans.
The constraints on Thailand's industry have caused the government to reduce its anticipated GDP growth this year from 3.8% to 3%. In 2018 the country, which is the second largest economy in South-East Asia, achieved 4.1% growth, its best for six years.
In terms of marine tourism, notable investments have been made around Phuket and Krabi in the western part of Thailand and also in the eastern region with a focus on Pattaya. In respect of Krabi, which is already home to two marinas, the Thai Minister of Tourism and Sports, Phiphat Ratchakitprakarn, recently visited the town to talk with tourism private sector businesses about future opportunities and prospects in both the marine and land areas.
He was there to gain feedback from local companies, including those in the marine tourism sector, about options for jointly developing new projects. Among those that he met were representatives of the Krabi Provincial Industry Council, Executive Board of the Krabi Chamber of Commerce and the Tourism Authority of Thailand.
In respect of marine tourism, yachting and cruising were highlighted as growth areas that attract high-spending tourists. A need for better clarity regarding visas and regulations was highlighted, as well as appropriate security and quality support services for marine visitors.
In a recent marine recreational sector move, Royal Phuket Marina has achieved accreditation under the International Clean Marina Program. The marina is the first in Thailand to achieve this recognition. Royal Phuket Marina has well-protected facilities for 100 yachts within a site that includes a hard stand, dry stack, luxury apartments, villas and retail outlets.
The Clean Marina accreditation is based on a site assessment by an independent auditor using a 103-point checklist developed by industry and government specialists in Australia. The audit includes inspections of mechanical activities, boat maintenance and storage, fueling, facility and waste management, workshop, risk management and emergency planning and boater education. A detailed written report is provided to the Marina following the site audit.
Commenting on the professionalism and dedication of Royal Phuket Marina (RPM) staff, the auditor said: "The systems used to manage the marina operations are exceptionally well thought through and adhered to by the entire marina team."
The Clean Marina Program is administered by the Australian-headquartered Marina Industries Association (MIA). Andrew Chapman, MIA chairman, said: "The accreditation of Royal Phuket Marina is very significant. As the recreational boating industry matures and continues to grow strongly in this region of Asia, it is vital that high environmental standards and practices become the norm. If this were not the case, the quality of the boating experience would diminish over time and industry growth suffer."
He added: "RPM is to be congratulated for striving to achieve international best practice in marina environmental management and operations. The marina is providing leadership for other marinas in the region to follow."
RPM marina manager, Ben McCrory, commented: "Royal Phuket Marina facilities and environmental management practices reflected the standards expected by Royal Phuket's discerning clients including boat owners, guests, captains and crew. We also continue to hold Global Gold Anchor accreditation as a 5 Gold Anchor marina. These accreditations demonstrate our commitment to continually improving the experience of our clients."