This year's event focused on 'the perfect customer journey'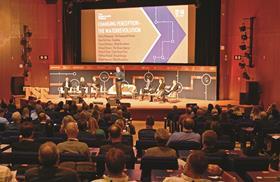 The 23rd edition of The Superyacht Forum, held from November 12-14 in association with METSTRADE, delivered a wide range of presentations around a central theme of ownership experience entitled 'The Future of Superyacht Ownership - The Perfect Customer Journey.'
Described as part of a strategic plan where the industry will explore, debate and develop the perfect customer journey, the three-day event was structured with a focus on a different stage in the process of ownership each day. Monday's program, titled Starting the Journey - Understanding Ownership, opened with a keynote discussing the current state of the world's wealth followed by discussions on chartering, purchasing, marketing, legal and tax considerations, and new thinking toward marketing yachting to the next generation.
The Day Two program, titled Building & Rebuild the Fleet – Optimising Ownership, focused on discussions around new builds, project management, ownership and tax structures, innovations, inspirations and rebuilding.
The Day Three program, with a theme of Operating & Managing – Enjoying Ownership, focused on logistical considerations such as managing captains and crew, yacht management, crew welfare and mental health, owners investing in the industry, and the next generation.