The 74m Lürssen superyacht is the largest vessel to have ever visited Brisbane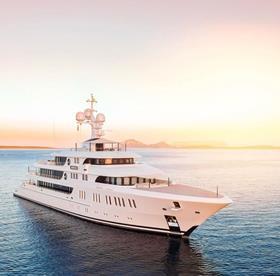 The Lürssen-built MY Aurora arrived in Brisbane, Australia, last month after a 12,000 nautical mile voyage and is currently undergoing minor works at Riverate Marina & Shipyard, as well as engine checks, refuelling and provisioning. At 74m (243ft), it is the largest yacht to have ever visited the city.
"Welcoming Aurora to the city reach of the Brisbane River is an historic event," says Rivergate general manager, Andrew Cannon. "Aurora is one of many international superyachts forecast to head to our shores in the next few years, taking advantage of all our region has to offer and generating revenue at many levels in the marine and tourism industries."
Aurora is expected to spend the next few months cruising Australian waters. In Australia, the superyacht industry is estimated to support around 14,500 full-time jobs worth A$1.2bn in wages and salaries, and contributes $190m per annum via foreign tourist/guest and crew expenditure to the Australian economy.
Owned by Russian billionaire Andrey Molchanov, the $US120m yacht was launched in 2017 and took 18 three years to build. It has a beam of 13m and fuel capacity of 240,000 litres, giving it a range of 6,500 nautical miles, making Aurora the largest volume superyacht in her class.
The global superyacht fleet numbers around 5,000 (vessels above 30m) according to Superyacht Intelligence, and Aurora is part of the increasing trend for ever-bigger superyachts on order.
Aurora's voyage to Australia began in Barcelona in mid-October, headed to Albania via the Suez Canal to Sri Lanka where it refuelled, then skirting Indonesia, around the top of the Gulf of Carpentaria and along the Queensland coastline. "Asia, the South Pacific and Australia hold a definite allure for international superyacht owners," says Aurora's captain, Stephen Bay. "Australia is a long way from Europe and the US, but guests are looking for alternatives to the Med and Caribbean."