Now in its fifth year, the 2019 Boat Builder Awards for Business Achievement in association with Raymarine is approaching the October 7 deadline for entries. Jointly organised by IBI and METSTRADE, the award program has grown in stature and number of nominations each year, highlighting the breadth of innovations taking place across the industry's boat building sector.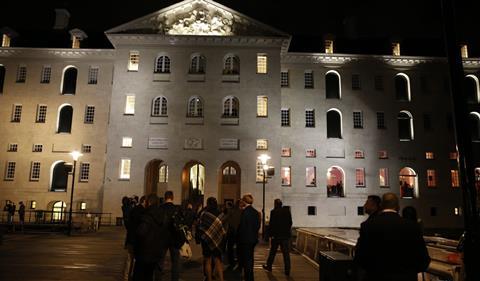 Last year, more than 350 industry members – including leading boat builders and equipment suppliers from five continents – gathered at Amsterdam's National Maritime Museum for this first-class event which includes a networking reception, 3-course dinner, live entertainment, and awards presentation capped off with announcement of the Lifetime Achievement Award – accepted in 2018 by Group Beneteau's Annette Roux.
Overall, a record total of 15 winning companies and individuals plus 12 honourable mentions were featured during last year's ceremony and also highlighted in a special exhibit area on the METSTRADE show floor. Winners receive a trophy, certificate, on-line recognition and use of the Boat Building Award logo to promote their achievement year-round with clients and partners.
Awards are available in ten categories and are unique in offering a number of opportunities for joint recognition between builders and their suppliers in collaborative efforts or projects.
Headline Sponsor: Raymarine
Award Categories:
International Distributor/Dealer Development, sponsored by Volvo Penta
Collaborative Solution between a Production Boat Builder and its Supply Chain Partner, sponsored by Ultraflex
Collaborative Solution between a Superyacht Builder and its Supply Chain Partner, sponsored by Lumishore
Innovative On-board Design Solution, sponsored by Fusion
Innovation in a Production Process, sponsored by Dometic
Environmental Initiative, sponsored by UCINA
Best Apprenticeship or Training Scheme, sponsored by Marine Resources
Retail Marketing Initiative: sponsored by Glomex
Rising Star: sponsorship sponsored by Gurit
Lifetime Achievement Award, sponsored by Side-Power
Deadline for entries is October 7, after which a team of experienced judges will decide which companies and individuals should make it to the shortlist and receive complimentary tickets to attend the gala dinner and awards ceremony. "It's free to nominate and we've made the process easier and quicker than ever to do so," said IBI editor Ed Slack and chairman of the Judges Panel.
TIP!
The process is easy, but if you don't have time to make a nomination yourself, you can now send us your tip about a deserving company or individual via a special button on the nomination page.
Want to see your company or project recognised
Are you pioneering a cutting-edge onboard design solution, implementing a novel program for your dealer network, or launching a sustainability initiative which deserves recognition? If your company -- or another one you work with -- stands out as a leader in these areas or others including marketing, production or apprentice programs, why not nominate it for the 2019 Boatbuilders Awards for Business Achievement in association with Raymarine.
View Criteria & Enter Here
The IBI-METSTRADE Boat Builder Awards are jointly organised by METSTRADE, the world's leading platform for professionals in the leisure marine equipment industry and International Boat Industry (IBI) magazine. METSTRADE is the world's largest trade exhibition of equipment, materials and systems for the international leisure marine industry. It is organised by RAI Amsterdam in association with ICOMIA (International Council of Marine Industry Associations). Raymarine has been the headline sponsor since the awards' inception in 2015.
International Boat Industry (IBI) has been tracking the world's leisure marine market for fifty years and remains the only business magazine and website to investigate and analyse commercial developments in established and emerging leisure boating markets across the globe. The magazine and its related daily newsletter, IBInews.com, are received by over 14,000 professionals in the industry in more than 120 countries.