The marine electronics specialist picked up the coveted title last month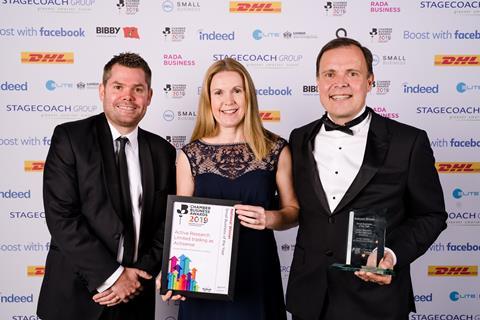 Poole, UK-based marine electronics specialists, Actisense, was awarded the title of Small Business of the Year at the British Chambers' national Chamber Awards, which took place at London's Tobacco Dock on Thursday 28 November.
The glitzy awards ceremony is one of the UK's most contested and prestigious business award programmes. Each year, organisations of all sizes and sectors compete for the coveted titles and the national recognition they bring.
The Small Business of the Year category, sponsored by Facebook, was contested by nine regional winners from around the country. The judges chose Actisense as the overall winner for showing clear differentiation of their products from their competitors, showing strong managerial and financial performance and for displaying clear innovation and potential for even further growth.
The business also won acclaim by showing evidence of their commitment to their staff.
"Our team of 28 talented individuals have worked incredibly hard to make Actisense the well-respected brand that it is today," says Actisense CEO Phil Whitehurst. "We have developed award-winning products and built up a fantastic network of trusted international distributors who are themselves an extended part of the Actisense family. Together, we continue to delight our customers and we look forward to another exciting year ahead with even more exciting innovations planned."