But drop in number of export submissions a concern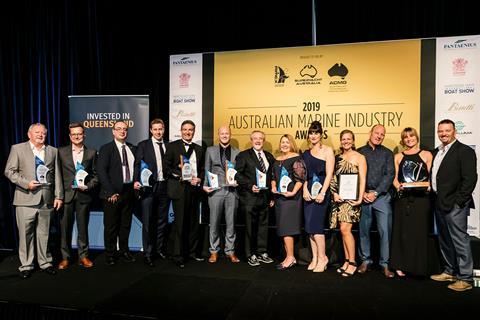 An inherent element of the annual ASMEX conference is the Australian Marine Industry Awards. Always held at a gala event, the awards reflect the success of the country's strong marine industry, covering superyachts, marine recreation and commercial marine activities.
Aimex president Richard Chapman said: "This year's award winners represent the success Australian businesses and brands are enjoying on the global stage. Their investment, hard work and high standards pay off. We are proud to elevate this amazing group of marine industry professionals and pay tribute to their talent and tenacity."
However, Ken Evans, chairman of the judging panel, commented that there was disappointment over the drop in the number of submissions for the export awards.
The winners of this year's Australian Marine Industry Awards are as follows:
Commercial Marine Project/Design or Manufacturer 2019: AusShips
Commercial Marine Service Provider 2019: The Yard Brisbane
Most Innovative Marine Industry Commercial Product or Service 2019: Marine Engineering Consultants
Superyacht Industry Service Provider: No winner (Highly Commended was North Australia Yacht Support)
Superyacht Industry Service Provider: Super Yacht Group Great Barrier Reef
Superyacht Industry Project/Design or Manufacturer: Echo Yachts
Australian Voyage Award: Captain Mark DeBanks from M/Y Spirit
Marine Industry Export Performance (Medium Exporter): SeaHub
Marine Industry Export Performance (Large Exporter): Steber International
Marine Industry Export Marketing Strategy: SeaHub
Marine Industry Exporter of the Year: SeaHub
Australian Marine Industry Champion: Mark Stothard, Echo Yachts