International Distributor/Dealer Development spotlighted at the 2019 Boat Builder Awards, in association with Raymarine
With less than two weeks until the entry deadline, boatbuilders and their suppliers are being urged to get their nominations in for the 2019 Boat Builder Awards in association with Raymarine.
TheInternational Distributor or Dealer Development award, sponsored by Volvo Penta, is just one of 10 awards that will be presented during the gala dinner in Amsterdam on November 19. Awarded to individuals or teams working for boat builders who have generated significant growth of their business through export success, by expanding their distributor or dealer network or by strengthening relationships with existing networks, the category was won in 2018 by inflatable manufacturer Brig for the rapid expansion of its US dealer network.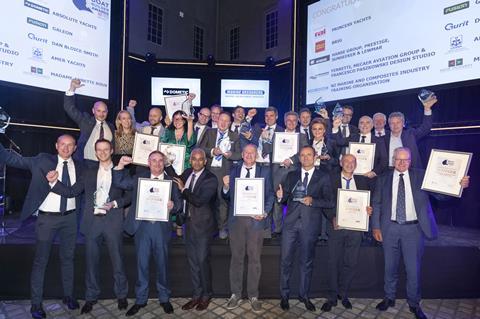 "Volvo Penta is proud to be sponsoring an award, which recognizes leadership within the boating industry," says Johan Inden, head of Volvo Penta's marine leisure segment and president of Volvo Penta region Europe. "Advancements in international distribution and dealer development are essential to helping the industry grow. We look forward to seeing what success cases for business growth are presented by the nominees in this category."
If your company, or one you know of, deserves recognition for its dealer/distributor initiatives in 2019, then go online to boatbuilderawards.com and complete your entry without delay.
IBI, joint organiser of the Awards, along with METSTRADE organiers, Rai, are also urging those individuals that have entered nominations, but are yet to complete the full entry form, to go back online and complete their entries by the end of next week.
To nominate for the International Distributor or Dealer Development award or any of the below, click here
The full list of awards categories are:
International Distributor/Dealer Development, sponsored by Volvo Penta
Collaborative Solution between a Production Boat Builder and its Supply Chain Partner, sponsored by Ultrafle
Collaborative Solution between a Superyacht Builder and its Supply Chain Partner, sponsored by Lumishore
Innovative On-board Design Solution, sponsored by Fusion
Innovation in a Production Process, sponsored by Dometi
Environmental Initiative, sponsored by UCINA
Best Apprenticeship or Training Scheme, sponsored by Marine Resources
Retail Marketing Initiative: sponsored by Glomex
Rising Star: sponsorship sponsored by Gurit
Lifetime Achievement Award, sponsored by Side-Power
It's free & easy to enter!
The online nomination process is easy, but if you don't have time to make a nomination yourself you can also leave us a tip about a deserving company or individual -- via a link on our nomination page.