Mike Busacca has received the Marine Industry Association of South Florida's Award of Excellence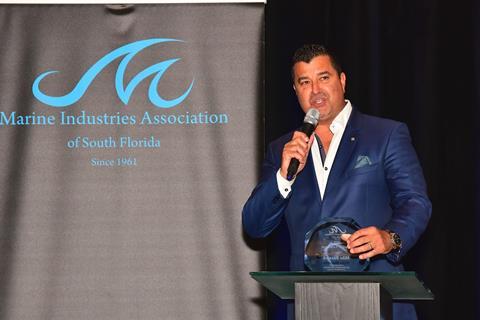 Mike Busacca, chief operating officer at Fraser Yachts, picked up the Marine Industry Assocaition of South Florida (MIASF) Award of Excellence last month for his contributions to the marine industry.
According to the MIASF, the award is to recognise "individuals from our industry whose outstanding achievement and contributions represent excellence and have had positive and significant impacts."
Busacca's career in the yachting industry began in 1983 at Broward Marine, where he worked as a skilled tradesman. Now COO of Fraser Yachts, he oversees all aspects of the yacht service provider's operations in North America.
A Fraser statement says: "Busacca plays a large role in ensuring that Fraser retains its position as the Number 1 Yacht Brokerage in the world, as published by The Superyacht Annual Brokerage Report in 2018. Over the last eight years, Fraser has consistently sold more yachts over 24m each year than any other brokerage worldwide. In the first five months of 2019, Fraser has sold more yachts (21) in this time period than at any other time in the last 10 years."
Busacca also combines his passion for yachting with giving back to the local community. He has served on the Boys & Girls Club Fisher Island Yacht Rendezvous committee for over 20 years and has helped raise over $30m since becoming involved. The charity provides services for 12,500 local at-risk kids.