South African industry stalwarts were recognised for their achievements last week by the South African Boatbuilders Export Council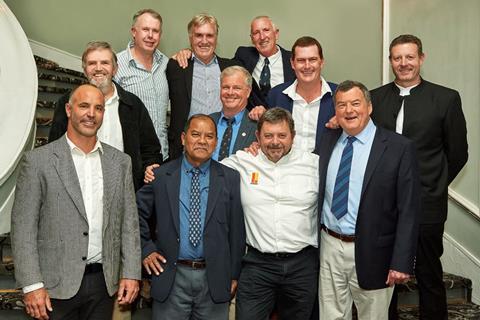 Robertson & Caine co-founder John Robertson and a host of other South African boatbuilding industry stalwarts have been honoured with achievement awards by the South African Boatbuilders Export Council (SABBEX).
Robertson was one of 10 local industry veterans to win either a 'trailblazer' or 'legend' award at a well-attended SABBEX gala dinner last Thursday evening. The other winning boatbuilders were Fuad Jacobs from Jacobs Bros, Mark Delany from Two Oceans Marine, Duncan Lethbridge from St Francis Marine, and Jeff Stephens from Gemini Marine.
Suppliers and designers were also among the winners – namely, Alex Simonis from Simonis Voogd Design, Tich Mitchell from Sparcraft, Karl Martin from Draco Sailing Hardware, and Anton du Toit from Du Toit Yacht Design.
SABBEX chairman Bruce Tedder was also recognised for his lengthy contribution towards building an internationally-recognised industry body.
Guests at Thursday's event in Cape Town were treated to anecdotes and insights from keynote speaker and acclaimed sailor Skip Novak, in addition to input from local government and business sector stakeholders.
In his address, James Vos, City of Cape Town head of Economic Opportunities and Asset Management, said the city was committed to supporting skills development in the boatbuilding sector. "Preliminary findings of the recent research conducted by the City that looked into the economic contribution of the ocean sports economy in Cape Town, showed that this is a significant sector demonstrating huge growth potential and job creation capabilities. The full findings will be presented later this month," Vos said.
SABBEX executive director Vanessa Davidson said Thursday's function was intended to "honour to recognise and acknowledge the people who have paved the way for boating and boat building in South Africa since the 1970s."
Davidson said: "They are the legends who have built the South African industry to the globally recognised industry it is today. They continue to blaze the way forward with new innovations, designs and production processes, maintaining South Africa's reputation for quality design, quality product and excellent customer service."
IBI's correspondent Phil Draper arrived back in the UK today following a week-long tour of boat and equipment manufacturers in South Africa, which included his attendance at the awards ceremony. His report on the industry and the domestic market will be published in the August issue of the magazine.