Birgit Schnaase, chair of the DAME Awards jury, presented UK company Triskel Marine with the prestigious DAME Award 2018 on Tuesday for its fully integrated Integrel generator replacement system. A further five products were named as Category Winners and 22 received Special Mentions.
Triskel Marine used 15 years' research into power efficiency on boats and superyachts to create Integrel which exploits the gap between the propeller curve and optimum efficiency of a propulsion engine to generate power which is then stored for AC and DC use. This improves the efficiency of the fuel that is burned and avoids the need for a separate generator.
The jury particularly noted the Integrel system's ability to improve the environmental footprint of leisure boating today, its simplicity of operation providing long periods of quiet ship operation and its potential to be further developed for a wide range of applications.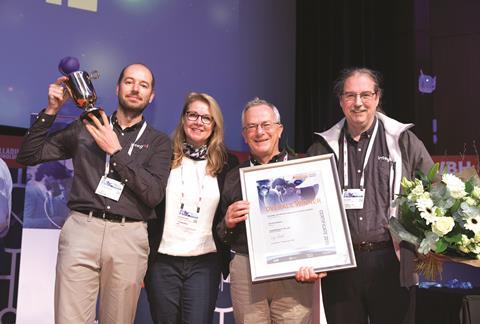 Commenting on the result, Schnaase stated: "The entry field once again showed signs of progress at individual company and industry level. The primary motive of the DAME Award is to promote good design practice in every aspect and the jury was pleased to see so many examples where form and function were well balanced.
"We had a dramatic contrast in the physical size of products this year, with everything from superyacht primary systems to the smallest clip. It is sometimes easier to admire the incredible amount of work of an engineering design team on a well-conceived complex product, but the Jury has been equally encouraged to see that same level of design detail on simple items that are often taken for granted.
"One can grow very comfortable with long-standing solutions in our industry, but that does not mean that they cannot be improved for the experience of a boat owner, the efficiency of manufacture and the potential reduction in environmental footprint. Our final list of Winners, Special Mentions and Nominations include products that prove this point emphatically."
The other category winners were Spinlock Sail Sense (stand 03.200-03.201) for Marine Electronics and Marine Related Software, Vimar Electronic Switch 8in 7out 3M (stand 10.115) for Interior Equipment, Furnishing, Materials and Electrical Fittings used in Cabins, Harken CLR Mooring Winch (stand 12.227 and 12.327) for Deck Equipment, Sails and Rigging, Rooster Exofleece (stand 12.907) for Clothing and Crew Accessories, Shakespeare Marine GALAXY-INFL8 (stand 02.407) for Lifesaving and Safety Equipment, and Triskel Marine Integrel (stand 07.330E) for Machinery, Propulsion, Mechanical and Electrical Systems and Fittings.
In keeping with the rules of the competition, the jury decided not to award a winner in the Marina Equipment, Boatyard Equipment, and Boat Construction Tools and Materials categories this year after carefully considering the standard of entries against other categories.
Overall, the DAME jury inspected 127 entries from 25 countries, from which it nominated a total of 63 products for consideration in the final judging rounds.