Builder looks to expand its footprint and reach into South-East Asia
Asia Yachting in Hong Kong has confirmed the strength of its partnership with the Beneteau Group in the Asian market by enlarging its dealership of the internationally renowned brands of Prestige and Beneteau Swift Trawler. Alongside the current territories of Hong Kong and Macau, Asia Yachting will expand its offerings of new boat ownership, brokerage and boat management to the ASEAN regions of Indonesia, Malaysia, Thailand, Singapore and the Philippines.
Luca Brancaleon, managing director of Beneteau said; "We are proud to offer the magnificent Swift trawler in the Asia-Pacific market. We believe in the strengths of Asia Yachting in serving existing clients while developing new clientele who wish to undertake long voyages. The Beneteau Swift Trawler is an attractively proportioned best-selling long-range boat, suitable for ocean sailing and comfortable on long cruises. With over 400 boats on the water she boasts features that make her an undisputed leader in this market."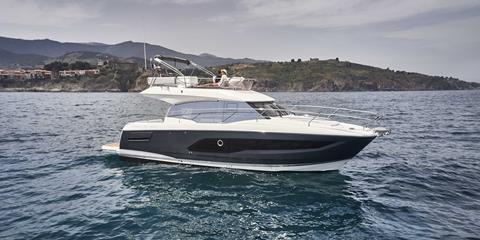 IBI's Asian correspondent spoke with the CEO of Prestige Yachts Erwin Bamps; "The expansion of our partnership with Asia Yachting is a positive initiative given its well-established businesses and presence across Asia. With Asia Yachting we are expanding our footprint and reach into South-East Asia with a partner, who has an excellent understanding of local waters and customer expectations. We have a strong belief that the Asia-Pacific market is emerging and growing, allowing us to develop globalisation for the Prestige brand even more intensively. Prestige yachts are known as 'family yachts' and are renowned for being spacious, open-plan and full of light from the large windows. We design and build yachts with the aim of inviting as many people as possible onto the water, enjoying the experience of a leisurely cruise or even an on-water home away from home. Focused on delivering comfort, ease of use and reliable performance, the evolution of the latest generation of Prestige yachts also makes them eminently suitable for the growing charter and corporate markets in Asia, as well as private use. Prestige celebrates 30 years of yacht manufacturing this year, with over 4,000 Prestige yachts already cruising the globe".
Olivier Besson, CEO of Asia Yachting said; "The entire Beneteau Group is confident in strengthening the relationship with Asia Yachting as a strategic partner for the Prestige and Beneteau Swift Trawler brands, which offer different products for complementary segments in the market. As Asia Yachting enters its 13th year in the industry I am very excited to extend the scope of the strategic partnership with the Beneteau Group in terms of product lines and territories. The past decade of collaboration has been remarkable. I am convinced that the synergy between Asia Yachting's different territories and these two leading brands will be complementary and beneficial in providing the best possible offer to our clients in terms of products, services and maintenance."