The reconceived fiberglass pontoon is powered by a 72V, 420-amp lithium battery pack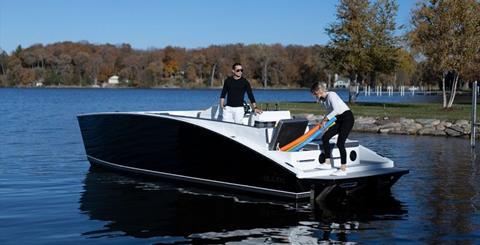 The upcoming Minneapolis Boat Show will see the debut of a new electric-powered, fiberglass "luxury pontoon boat" from ELUX Marine. The show runs from January 24-27 at the Minneapolis Convention Center.
A collaboration between boat designer/craftsman Bart Jones and medical device entrepreneur Howard Root, the ELUX electric luxury pontoon is a 24ft fiberglass pontoon powered by a 72V, 420-amp lithium battery pack propelling a direct drive inboard electric motor at speeds up to 14mph.
At cruising speed, the ELUX electric pontoon motors for over 10 hours on a single charge and recharges by plugging into a standard electrical outlet, according to a company news release.
Jones started renovating and building boats in the early 1990s and as his business grew, so did an interest in electric-powered boats. That interest led Jones in 2008 to develop the Go-Float – a line of two-person electric sun loungers – that is still being sold today.
Improvements in lithium batteries over the next decade excelled rapidly, as did the market for electric autos, leading Jones to begin designing a full-sized electric pontoon.
"When I started my design work five years ago, I asked myself a simple question: 'What if a pontoon didn't look like a pontoon?' Starting with a blank sheet of paper, I sought to create a pontoon that was tailored for lake cruising but was also sleek and stylish. The first step was to integrate the pontoons into the hull and the final result is the ELUX pontoon – a boat that meets the pontoon cruising needs for Minnesota lakes with a design that uses clean, simple lines to make a bold statement," Jones said.
Beyond the benefits of electric power, the standard features of the ELUX include a lot of electronics, such as integrated passenger seating for 12, multiple USB chargers, GPS with Simrad GO9 XSE 9-inch display and TotalScan transducer sonar; premium Infinity stereo by Harmon Kardan with eight speakers, subwoofer and Bluetooth, LED bow and stern lighting; there's even a handheld portable electric vacuum.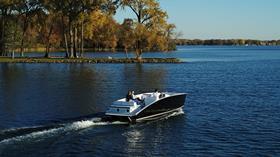 "We started ELUX Marine to redefine the pontoon experience by using the clean power of electricity to lead the next generation of enjoyment on the water," said Howard Root, CEO of ELUX Marine. "Our ELUX electric luxury fibreglass pontoon combines the simplicity of an electric motor with the luxury of a fibreglass design to deliver the most pleasurable and trouble-free pontoon boating experience available."
Initial limited 2019 production of the ELUX pontoon will be available for sale and delivery in May.