The EVO33 catamaran from Beacon Marine will be powered by an Oceanvolt electric propulsion system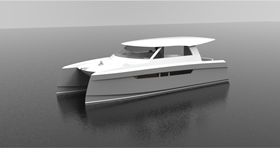 The owners of Beacon Marine, a New Zealand supplier of marine electonics and electrical solutions, are helping to pave the way for electric boating in NZ with a new concept for a Kiwi-designed and built model.
Joint managing directors Cam Harris and Adam Wrightson, along with naval architect Dan Leech, have designed two boats – the EVO33 leisure craft and EVO33c commercial vessel. Both are 33ft catarmarans.
The vessels will be fully manufactured in New Zealand and powered by an Oceanvolt electric propulsion system from Finland. Beacon recently secured sole agency for Oceanvolt distribution in New Zealand and the Pacific Islands.
"The alignment with Oceanvolt was a great step forward for us," says Harris. "We designed the EVO33 to showcase the advantage of electric vessels and propulsion systems and how efficient they can be."
The shaft-driven motors are state-of-the-art patented technology. The 20kW motors have a motor speed of 1400rpm, are lightweight, silent and have zero emissions. The motors run off a 48V DC lithium battery system, and the proprietary batteries are said to be 45% lighter than other LiFe products on the market.
Both cats have a short-range battery pack of 30Nm and a long-range battery pack of 60Nm, with the option of a diesel range extender available for all systems.
"Electric vessels are something that has been on our mind for years," says Harris. "It's no doubt the way forward. Being in the industry for so long, and seeing firsthand the effect that petrol and diesel has on our marine environment, we felt the need to use our knowledge to change the way of boating in NZ."