Vision Yachts says new features on its flagship Vision 444 to become standard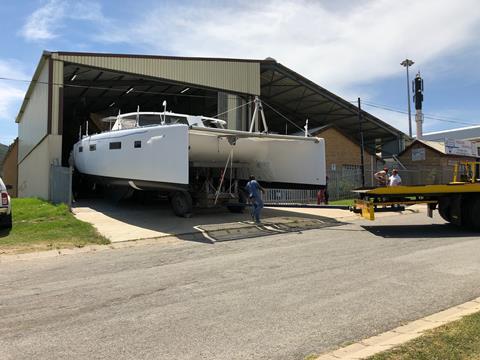 South African catamaran producer Vision Yachts has launched a specially adapted version of its flagship Vision 444 model for disabled boaters, with more in prospect.
Vision managing director James Turner said the brief from an American client was to integrate 'special needs' design into the existing design. "The brief was simple: we had to build a boat to meet the client's needs but it must not look like a 'special needs' boat – which was the challenging part, but exciting," Turner said. "It opened our eyes to new ways to approach design."
He said the majority of 'special needs' features would now become standard on all Vision 444s, making the 14.3m boat more accessible. "I think the special needs market is very small but what it does mean, is that if you have a friend and/or family member they will be able to come sailing with you and be comfortable," Turner said.
A key challenge was accommodating wheelchair access through cabin doors and transferring from the chair to seats. In addition, the design allows the client to sail the boat from three positions. "It was challenging to understand all the aspects and the physical limitations. We actually physically drew our client in Rhino [CAD] and this allowed us to put him in the model with his chair," Turner said.
Vision's 444 bluewater cruiser design is a reworked version of their previous model. It has generated significant interest in the US since the company opened an office there in 2015. It is also expanding to Europe in the form of an office in Mallorca.